Space Limited
For Tutu, Wig Workshops
The Costume and Technology Commission will offer two exciting Professional Development Workshops at the Toronto 2005 Conference & Stage Expo.
Some of the theatre talent of Toronto will be utilized to present the workshops.
On Monday and Tuesday, March 14 and 15, Caroline O'Brien of the National Ballet School of Toronto will guide participants through the process of constructing the classical tutu. The participants will construct and keep the lower half of a 10 layer classical tutu. This is a specialized skill which needs to be passed on to more artisans. The workshop will be hosted by Ryerson University in downtown Toronto.
On Tuesday, March 15, Canadian Opera Company will host the workshop on Styling and Maintaining Synthetic and Human Hair Wigs. Sharon Ryman, head of wigs for the company, will lead participants through styling techniques on human and synthetic hair wigs. Other topics covered in the workshop will include wig maintenance, wig suppliers, and rental companies. Students will have an opportunity to create two period styles on their own wigs.
With the popularity of these PDWs and the space limitations, members should sign up for these sessions soon. Costs and registration details can be found here.
To Top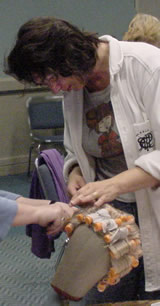 Professional Development Workshops presented by the Costume Design & Technology Commission are always popular, such as
Creating Period Hair Styles: Dressing Synthetic and Human Hair Wigs
which was offered in 2004.
Photo/Tom Thatcher