Christopher Newton to
Give USITT Keynote, Receive Award
Christopher Newton, Artistic Director Emeritus of the Shaw Festival at Niagara on the Lake, will deliver the Keynote which kicks off USITT's 45th Annual Conference & Stage Expo March 16 in Toronto, Ontario, Canada.
Mr. Newton, who was born in England and educated in the United States, has spent more than four decades contributing to Canadian theatre. USITT will recognize Mr. Newton for all that he has done to enhance the cultural life of the region with the 2005 Thomas DeGaetani Award. The DeGaetani Award is given to honor a lifetime contribution to the performing arts community in a particular region.
Mr. Newton will give the Keynote at 10 a.m. Wednesday, March 16 in the Concert Hall of the Fairmont Royal York hotel. Major Conference events will be held at the Fairmont Royal York and the nearby Metro Toronto Convention Centre. Conference sessions, seminars, and meetings begin on March 16 and continue until Saturday evening, March 19. A day-long tour to the Shaw Festival and Niagara Falls will be held on Tuesday, March 15, before the Conference begins.
Mr. Newton's tenure as the Shaw Festival's artistic director began in 1980 and continued for more than 20 years, a period of tremendous energy and recognition. Before joining the Shaw, he was Founding Artistic Director of Theatre Calgary in 1968 and was Co-Founder of Playhouse Acting School. His many acting credits include Oberon in A Midsummer Night's Dream for the Stratford Festival, and roles at the Shaw. He has even more extensive directing credits for the Shaw Festival and other organizations.
While at the Shaw, he initiated The Academy which has evolved into a professional development program featuring voice and movement classes, scene study, specialized workshops and workshop productions. Another initiative, The Toronto Project, allows The Shaw Acting Ensemble to showcase works from Canada and abroad, while yet another project, collaborations with international theatre companies, allow designers, directors, craftspeople and administrators to exchange ideas and skills.
A member of the Order of Canada (1996), Mr. Newton has received honorary degrees from both sides of the United States/Canada border. In 2002, he received the Canada Council for the Arts Molson Award, the Queen's Golden Jubilee Medal, and the Toronto Arts Award for Lifetime Achievement.
To learn more about Conference events, to register, or to sign up for the Shaw tour, click here.
To Top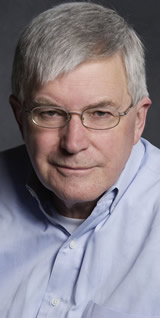 Christopher Newton will present USITT's Keynote at 10 a.m. Wednesday, March 16, 2005 to kick off the 45th Annual Conference & Stage Expo.