Viva Las Vegas
One of the great pleasures of being USITT President is getting a chance to work with all the other volunteers that make this organization work. Nothing happens in USITT without the volunteers, supported by the staff. During the Winter Board Meetings in Las Vegas several different groups met to help determine the future activities of the Institute. The Executive Committee, the Board of Directors, the Publications Committee, and Finance Committee all met.
Volunteer committee members and designers came together to evaluate submissions for the Young Designers & Technicians Awards. All these individuals met for many hours to conduct the current business of USITT. In addition, many of these same volunteers participated in the ESTA Standards and Certification meetings to help mold the rules by which we all must operate.
All these people do this, and expend their own time and money, because they feel the work of the Institute is important. In these meetings we discussed such varied topics as:
What should the Institute be doing in the future to better serve our members and the Industry?
World Stage Design - what needs to be done next to guarantee the success of this exciting new international design exhibit?
How does the Institute support OISTAT's upcoming World Congress and the next Praque Quadrennial?
What can USITT do to promote international communication and cooperation?
What can USITT do to promote the publication of works in technical theatre and design?
We discussed the upcoming USITT Monograph project. Finally, we talked about being just five years from our 50th anniversary, and what can we do to ensure that USITT continues to be a positive force for another 50 years.
Essentially the work of the Institute comes down to having members that want to work together to make a difference in the industry. If no one is willing to volunteer, nothing happens. Sharing the work is the most important aspect of USITT, and the willingness of individual members to spend their own time and money to help the industry get better, is the key to why USITT works.
Please consider participating in the many wonderful projects of the Institute. Join a Commission, volunteer to do a program, work with your Regional Section, exhibit at Cover the Walls or Tech Expo, join a committee, join our international projects, or donate to the work of the Institute.
The information for our next conference is now on the web at www.usitt.org/Toronto2005, and the deadline for Very Early registration is coming soon. Take time to get involved and share your experiences with other people who share your passions. If you feel that you need something a little different, you can help USITT develop that project, too.
See you in Toronto, at the 2005 USITT Annual Conference & Stage Expo.
To Top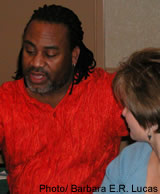 Members of USITT's Board of Directors met in Las Vegas, Nevada in small groups to discuss ways to better serve members.