News From
Sustaining Members
Chauvet: FOLD Festival Stars Shine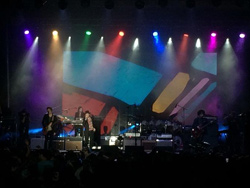 For five decades, the legendary Nile Rodgers has demonstrated an uncanny ability to weave diverse musical influences together in unexpected ways -- as frontman for his group Chic and as producer for Diana Ross, David Bowie, Madonna, Lady Gaga, Pitbull, and Avicii. His talents were displayed recently on a star-studded stage illuminated by a collection of Chauvet fixtures at the FOLD Festival outside New York City.
Jason Ayala of ProSho, which provided the lighting rig, said, "We wanted lighting that could make a bold statement at the big moments on stage with a lot of intensity and saturated color. Since the festival started at five o'clock when it's still light out, we needed brightness, too."
He and Kevin Jameson (also of ProSho) were the festival LDs. Their goal was to create a rig that was flexible enough to accommodate the diverse mix of artists onstage.
"We needed the impact and eye candy for some acts, but we also wanted softer washes for others," said Ayala. "The rig was very accommodating. Two of the bands -- Duran Duran and Beck -- brought in their own LDs. These LDs knew what we were bringing in and were happy with it, but they got even more excited when they got here and saw what the rig could do."
The FOLD Festival also featured a second DJ Stage illuminated with Chauvet fixtures.
"We built a lot of scenic looks on the DJ stage, giving it a club-like feel," said Ayala. "The Rogues gave us great audience lights and aerial effects, while the other fixtures were good eye candy.  We created two distinct environments on the two stages, but they worked well together during the two days."
Chicago Spotlight, Grand Stage: Companies Merge into Grand Stage Company
Chicago Spotlight, Inc. and Grand Stage Lighting Co. Inc. have merged their operations.
The combined company, Grand Stage Company, will be divided into three divisions. Grand Stage will continue as the corporate identity and be responsible for all sales, systems integration, and marketing efforts. Chicago Spotlight will provide customers with full service rental and production services, and Art Drapery Studios will continue to provide quality theatrical draperies and stage rigging installations.
The board of directors appointed Gregory Becker president and Marty Lazarus vice president.
Grand Stage Company will offer an expanded range of products to existing customer bases through a new online store, unparalleled customer support, and technical services.
Theatre Projects: Jim Niesel Returns
Theatre Projects welcomes Jim Niesel back as the newest project manager and theatre equipment/audio-video designer.
He began his theatre consulting career at Theatre Projects back in 2001 before joining Arup in 2007, where he went on to take a leading role in the company's New York and Australasia theatre consulting practices. While at Arup, Niesel worked on a number of iconic performance spaces including the Sydney Opera House and the Metropolitan Opera House.
Now back where he began, he is looking forward to the collaborative environment at Theatre Projects and having a part in the extraordinary performance spaces that they design.
"I came back for the opportunity to work in a smaller, more focused firm," he said.
He is also returning because of his admiration for USITT Fellow Richard Pilbrow, founder, and his philosophical approach to theatre design. Niesel's post-graduate days as a shop foreman, stage tech, and A/V designer sparked his desire to design spaces for performance.
GLP: Products Wow at XAVER Awards, Nitro Circus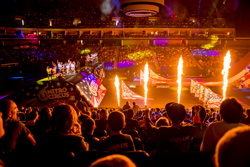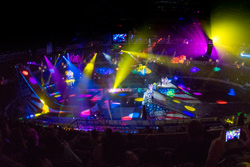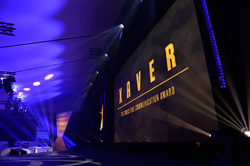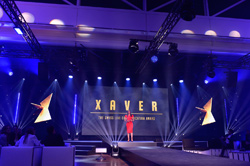 GLP's products helped make a Swiss awards ceremony glitzier and extreme sports stunts safer.
The company's latest X4 Bar 20 LED battens were used to light this year's XAVER Award ceremony in Zurich, Switzerland. The award recognizes outstanding achievements in the fields of live communication in the Alpine region.
Winkler Multi Media Events AG from Wohlen framed the projection screen in the heart of the stage with 16 of the new X4 Bars. After the XAVER event, Winkler ordered 92 pieces of X4 Bar 20, which are now available from Winkler's rental fleet.
GLP's impression X4 LED moving heads were put to the test chasing a team of all-action daredevil bike riders known as Nitro Circus for a United States Tour. The Sydney based Nitro Circus Live tour features more than 40 of the world's best action sports athletes performing daring and record-breaking tricks in freestyle motocross, BMX and skateboarding aided by stunts and accessories involving water coolers, rocking horses, a Lazy-Boy couch and more.
The lighting infrastructure needed to be set up in a concert-stadium environment but provide the type of light that would allow the atheletes to be able to see where they are going to land but allow for a theatrical edge.  
GLP partner Upstaging supplied the lighting inventory including 18 of the GLP impression X4. These fulfilled the role of providing a discreet but powerful light beam from nineteen RGBW high powered LEDs (rated at 15W each), with the X4 family's signature 7°-50° zoom optic.
Stagecraft Institute of Las Vegas: 2015 One for the Books
With 82 participants taking part, Stagecraft Institute of Las Vegas's (SILV) Summer 2015 program was called a great success by Director Jane Child..
Forty-nine states (still what's up North Dakota?) and 42 countries are home to SILV alumni. Eight have crossed over to teaching with SILV.
"We are heading into SILV 2016 and looking for suggestions for celebrating 10 Years of SILV!" Child said.
Visit www.stagecraftinstitute.com for more information.