News & Notices
Review Platform Gives USITT Top Rating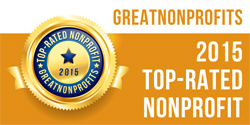 Thanks to board members, volunteers, and active members who wrote 20-plus positive reviews on GreatNonprofits, USITT has received a Top-Rated Award from this influential nonprofit review site.
If the Institute gets enough good reviews by October 31, it will make the GreatNonprofits Top 25 Nonprofits list. Visit USITT's GreatNonprofits page here to write a review.
GreatNonprofits is the leading platform for community-sourced reviews of nonprofits. It partners with GuideStar – the charity information site which gave USITT a Gold rating for transparency and financial accountability earlier this year. So reviews for GreatNonprofits also appear on Guidestar's website.
These reviews raise visibility and can be seen and shared by potential members, volunteers, donors, and sponsors. The individuals who have shared their experiences with USITT so far have all given high marks and great information.
"A site like GreatNonprofits gives people the ability to hear from those who have been impacted by the association," said USITT Executive Director David Grindle. "When we get an opportunity to let others tell of our good deeds, it carries more weight. People who join or give money to organizations are investing in the work of the organization, and like any investor, they like to see the results."
Here are some review excerpts:
"This organization has made a huge difference in my career … There is a giving, thriving, encouraging community of artists and leaders in this organization. I feel empowered and affirmed after every conference, every meeting, symposium and workshop."
"I have been involved with USITT for many years, first, as an emerging artist, and now as a veteran. In those early years, USITT provided me with a network that has stood by me through my life. Today, USITT provides not only a network but essential training, information, standards, and support for all areas of our industry."
"USITT has shaped my career, provided my best professional development and education, and created my network of valued colleagues. Its commitment to its members and the industry as a whole has made it a leader in education, safety and standards, and diversity and inclusion."
 "I cannot say enough about this organization and what it means to me professionally and personally."
Please consider visiting Great Nonprofits and adding your own review of USITT.