News From
Around the Institute
YD&T Deadline Oct. 15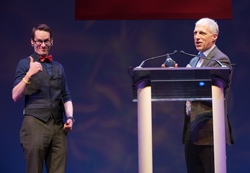 October 15 is the deadline to nominate a student or early career artist for USITT's Young Designers & Technicians in the Performing Arts Awards. Mentors, consider nominating students, and students, ask a mentor for a nomination!
There are 11 awards covering different disciplines, all carrying cash prizes, recognition, and free registration to the 2016 Annual Conference & Stage Expo (USITT 2016) in Salt Lake City, Utah, where the awards are presented.
For more info, visit www.usitt.org/ydt.
Steve Terry to Receive Swan Award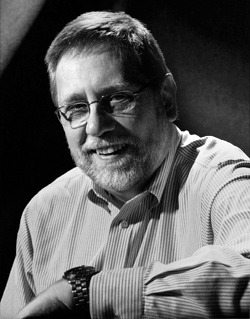 PLASA chose USITT Fellow Steve Terry to receive the Eva Swan Award, its highest honor. The award will be presented at PLASA's annual general meeting 2:30 to 4:30 p.m. on Thursday, October 22 at the Westgate Las Vegas Casino and Resort in Las Vegas, Nevada.
The award recognizes exceptional, long-term commitment to the organization.
Terry, vice president of research and development at Electronic Theatre Controls (ETC), has been involved with PLASA's Technical Standards Program, the Entertainment Technician Certification Program, the ESTA Board of Directors, and the PLASA Governing Body for many years. His contributions to the lighting industry include leading the team responsible for the development of the original USITT standard for DMX512 and the formation of the original ESTA Technical Standards Program. He was a founding member of the Controls Protocols and Electrical Power Working Groups. He has served as an active member of the Technical Standards Council and the Technical Standards Committee before it.
Terry has also worked with Underwriters Laboratories and the National Fire Protection Association. His work with the NFPA on behalf of the entertainment technology community has made the industry safer.
He participated as a subject matter expert (SME) in the recent revisions of the ETCP electrical exams and serves as SME for a new certification exam.  As an author, Terry has contributed his technical expertise to many industry publications including Protocol, PLASA's technical journal, Lighting and Sound International, and Lighting Dimensions.
Physics of Theatre Project Now a Book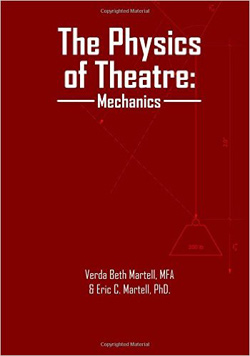 Congratulations to Board Member Verda Beth Martell and her husband, physicist and USITT presenter Eric Martell, on the publication of their new book, The Physics of Theatre: Mechanics.
Martell chairs the scenic technology department at the University of Illinois at Urbana-Champaign, is technical director for the Krannert Center for the Performing Arts, and is an ETCP Certified Rigger –Theatre and ETCP Recognized trainer.
The book is available at Amazon and WillyComms.
ASTC Re-launches E-Newsletter
USITT members can sign up for the relaunched American Society of Theatre Consultants (ASTC) e-newsletter, ASTC: Notes.  
Future articles will feature the latest in applied theatre design technology along with great ASTC "consultant-in-the-field" stories about the creation and inspiration for new and renovated performance facilities across the US and Canada.
For more information, visit www.theatreconsultants.org.
Passing the Gavel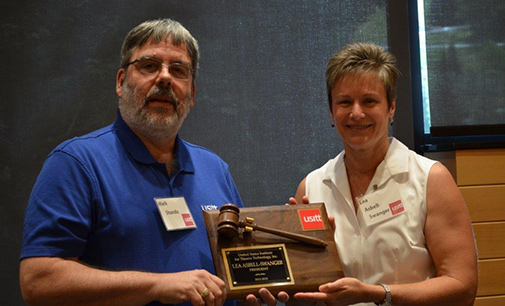 Members: Have news to share?
Articles, videos, blog posts or speaking events to announce?
Tell us at janet@usitt.org.