News & Notices
LiNK 2015 Set for Nov. 13-15 in Atlanta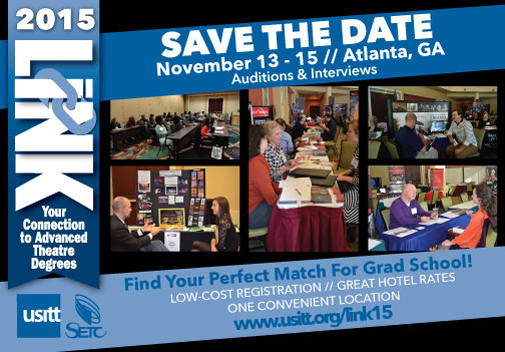 Registration is open now for theatre schools and aspiring grad students to attend the second annual LiNK 2015 grad school recruiting event November 13 to 15 in Atlanta, Georgia.
A joint venture by USITT and SETC, LiNK 2014 drew 48 colleges and universities to interview and audition potential grad students for advanced degree programs in performing arts design and administration.
 
Interviews and auditions will be offered in acting, directing, stage management, arts management, scene design, costume design, lighting design, sound design, technical direction, stage technology, lighting technology, costume technology, and production management.
Register at www.usitt.org/link.
LiNK provides the most affordable and convenient recruiting event for aspiring theatre grad students in the nation, said Executive Director David Grindle. "It is vital to USITT's mission to support continuing education."
The online registration fee for students is only $40. Onsite registration will be $60. Institutions pay $125 to participate and can register here.
The event links students considering advanced degrees in theatre areas  with schools offering those programs.
The Hilton offers room rates under $100 a night for LiNK, and registration includes networking opportunities, such as Friday night's LiNK Soiree, again sponsored by Focal Press.
SETC Executive Director Betsey Horth said the first LiNK last year attracted 80 students and received great reviews. "We plan to build on that success and grow the graduate school auditions and interviews this year," she said.
The event's timing allows students and colleges to connect early in the school year. Candidates can submit their resumes and portfolios online before the event. The Atlanta Airport location allows participants to get off a plane and be at the hotel in minutes.
"Centrally located, easy to get to, and inexpensive makes this the go-to event for potential students," Ivan Ingermann, associate professor of theatrical design and costume design at the University of Georgia, said of LiNK 2014.
LiNK 2015 expands to three days for more interviews and auditions. Already planning to attend are Virginia Tech, Florida State University, Boston University, Savannah College of Art and Design, The George Washington University, Louisiana Tech, Wayne State University, and the Stella Adler Studio of Acting, among others.
For more info, keep checking www.usitt.org/link.