News & Notices
Registration Opens for Gateway Program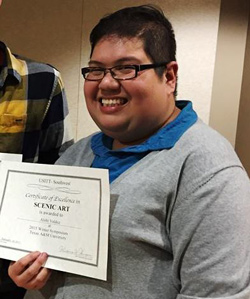 USITT will begin accepting nominations for participants in this year's Gateway Program October 1.
The Gateway Program provides mentorship opportunities for students and young professionals from under-represented populations at the 2016 Annual Conference Stage Expo (USITT 2016). Under-represented populations include but are not limited to gender, race, sexual identity/orientation, and ability.
Each participant will be paired with a mentor from a similar background and field of interest. There are 12 mentorships available, and each participant receives conference registration and one year of USITT membership, as well as special opportunities at the conference tailored to maximize their experience. There are housing and travel funds available based on need and the ability of the nominating organizations to support the nominee's travel.
2016 marks the program's third year. Gateway was established in honor of Board Member and mentor Tayneshia Jefferson using funds that were donated to the Institute in her honor after her death in 2013. Two of the Gateway mentorships are named in her honor and are committed to bringing black/African-American participants to the program.
The Gateway experience is making a significant impact on its participants:
"The Gateway Program has given me a new outlook on the theatre world. Where I once stood alone, at USITT I walked into a room so full of faces like mine that my heart filled to bursting. Here were people just like me, with similar experiences. I made so many friends from around the country, and I got to network with great people, too. While I'm confident in my talents, I now feel like my career is set to take off. I can't wait to turn around and be a mentor in the Gateway Program."—Alohilani Valdez, mentee from UT Arlington.
"Going into the Conference, I was nervous for all that was about to take place. I had so many questions, such as who I was going to talk to, what people were going to think of me, and how I was going to navigate my way through the Conference. Little did I know, I was lucky enough to have the Gateway Program to guide me through the week. This program changed my life. Some of the people I met during the Conference will be my future coworkers, a contact for the rest of my career, a friend, and maybe even a second family, but every person I met at the Conference has influenced my life in more than one way." –Marisa Melito, mentee from DePaul University.
Nominations must be submitted by November 20 at usitt.org/gateway. After nominees complete the process, they will be contacted to complete a questionnaire by Nov. 25. For more information, contact Kasey Allee-Foreman at klallee@ou.edu.