News From
Contributing Members
City Theatrical: Named Exclusive Distributor in Americas
United Kingdom lighting manufacturer Core Lighting recently named City Theatrical its exclusive distributor in the Americas.
City Theatrical's first product from Core Lighting is the QolorPoint battery powered wireless uplighter.  Sleek enough for upscale indoor use and IP65 rated for outdoor use under all weather conditions, QolorPoint can be used to transform any function, from small parties to large corporate events, and for stage lighting. The combination of battery power and wireless DMX control makes them truly portable, enabling extremely fast setup with no cables, creating a safer and more attractive environment. 
PLASA: Slates Sales Channel Panel at LDI
PLASA will present Demystifying the Sales Channel: Explaining the Relationship Between Dealers, Reps, and Manufacturers at LDI 2015 October 22.
A panel of industry veterans will discuss how dealers, manufacturers, specifiers, and end users can navigate the sales channel to effectively acquire products in systems integration and theatrical systems.
Bill Groener, general manager of systems at 4Wall Entertainment, will serve as moderator. Dealers will be represented by Bill Price, director of systems at Barbizon Lighting Company, and Paul Vincent, founder and president of Vincent Lighting Systems. Brian Coddington, control groups manager at KSA Lighting, and Jeff Goetsch, owner of Liberty Control Company, will speak for reps. Weighing in for manufacturers will be Fred Foster, co-founder and CEO of Electronic Theatre Controls, and Leonard Miller, national sales manager for Philips Entertainment.
The session will be 12:30 to 2 p.m. Thursday October 22 at the Westgate Las Vegas Resort & Casino. Register on the PLASA website.
Rose Brand: Acquires Swag Décor, Adds to Sales Team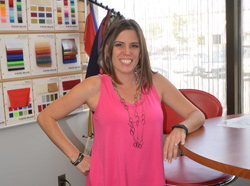 Rose Brand recently acquired Swag Décor of Orlando, Florida and Named Brandi Vold to its sales team.
Swag Décor provides uniquely designed event décor to the Florida market. It has established a reputation for excellence in both design and execution, which has helped the organization double in size in each of the past few years. Offerings include event décor design, meticulously maintained rental drapes, custom décor products, and on-time load-in and load-out services. Swag Décor will maintain its name but will be add "Swag Décor, a Rose Brand Company" to its logo.
 
Brandi Vold recently joined the Rose Brand sales team. Her professional background includes more than 14 years of sales and management experience in a variety of fields. Prior to joining the Rose Brand team, Vold worked in product development for an Atlanta-based company.
ETC: Lights Dutch Touring Opera, Promotes David Hilton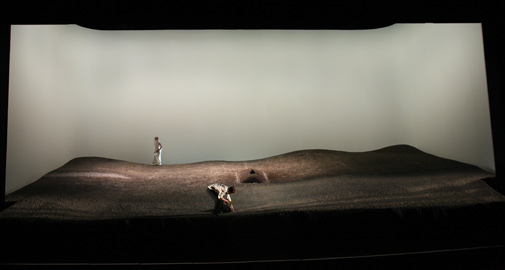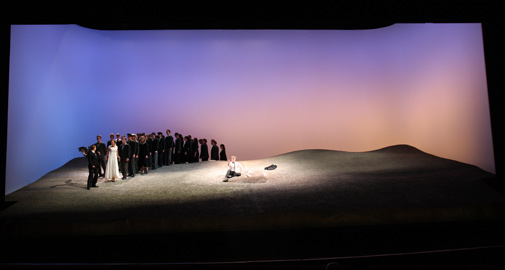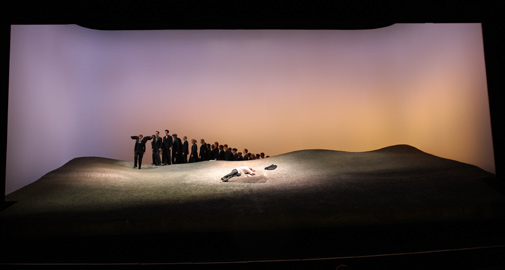 Lighting the cyclorama for the Nederlandse Reisopera's (Dutch Touring Opera) touring production of Orphée et Eurydice was a tall order given the company's limited budget and need for speedy setup and breakdown. ETC's 40 Source Four LED Series 2 Lustr luminaires with CYC adapters, and some clever rigging choices spelled success.
The show was originally programmed on an ETC Eos control desk, then transferred onto Eos's smaller sibling, Ion, for the show's tour. Watch a time-lapse video showing the ease with which the luminaires were rigged and derigged. View short video of the Nederlandse Reisopera's production of Orphée et Eurydice. The opera was held across the Netherlands on 12 dates throughout May and early June.
David Hilton was promoted to fill ETC's newly created position of associate regional manager for the western United States. In this role, he will assist Randy Pybas, West Coast regional manager, to form and execute sales strategies and offer increased customer support.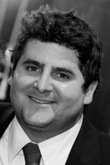 Hilton received a bachelor's degree in theatre from the University of Southern California with an emphasis in lighting design and production. He worked as a freelance lighting designer, director, and technician in the Los Angeles area for companies such as LA Ballet and LA Opera. He also designed for Festival Theatre USA which performed at the Edinburgh Fringe Festival.
In 2007, he joined ETC as field project coordinator for the western sales region, training end users, conducting product demonstrations, and forming relationships with customers, representatives, and dealers.
For more information on ETC and its products, visit www.etcconnect.com.
Meyer Sound: Continues Telluride Film Festival Partnership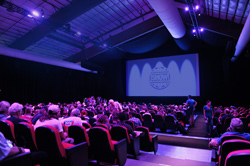 Named by Variety as "the rarest jewel in the crown of the festival-going experience," the Telluride Film Festival in Colorado again showcased a complete Meyer Sound 7.1 cinema sound system in its Werner Herzog Theatre.
Custom designed for the Herzog, the system was anchored by Acheron screen channel loudspeakers featuring a sonic linearity and accuracy that defined CEO John Meyer's philosophy of sound reproduction. The September 4 through 7 event was the fifth year the two renowned Bay Area organizations partnered to create the best venue for film.
Philips Selecon: Introduces PL Series Mark II LED Luminaires
Philips Selecon recently introduced the new PL Series Mark II LED luminaires.
With a single LED array, the PL Series Mark II luminaires create superior color consistency from fixture-to-fixture to breathe new life into lighting designs. They are now available in Profile, Fresnel and Cyc models.
The PLPROFILE1 MKII LED luminaire is a variable beam profile with precise beam control and pattern projection from a high output beam using only 140 watts. A combination of LED source technology and precision optical design, the PLPROFILE1 MKII is available in 18-34 or 24-44 degree beam angles while offering the performance of a 500 watt profile fixture.
The PLFRESNEL1 MKII LED luminaire is a general purpose lighting fixture for theatre, small studio, and display lighting applications that produces an adjustable cone of light with a soft edge easily blended with adjacent beams to provide even illumination. Available with a 15-54 variable beam angle, the PLFRESNEL1 MKII delivers the performance of a 500 Watt fresnel fixture with a power consumption of only 140 watts.
The PLCYC1 MKII LED luminaire delivers smooth, even cyc lighting in a compact lightweight design using only 140 Watts to illuminate drops up to 16 feet high with four-foot spacing centers. Each PLCYC1 MKII can replace the equivalent of a traditional four-color, 500 watt cyc luminaire.
All are complete with RDM capabilities as well as remote fixture setup for device settings. The proprietary Philips LED technology offers a 50,000 hour LED lamp life, infinite color choices from the RGBW engine, and a fully homogenized mixed color output with no color shadows.
For more information, contact a Philips Strand Lighting regional sales manager. 
Production Resource Group (PRG): Luminaires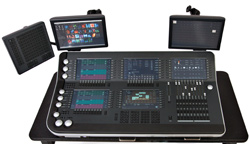 Production Resource Group (PRG) congratulates all the nominees for the 67th Annual Emmy Awards for their outstanding achievements in the television production industry. Seven of 11 nominees in two variety categories for lighting used PRG.
PRG also congratulates the nominated production design team of Peter Pan Live! Broadcast on NBC by Universal Television, Sony Pictures Television, Storyline Entertainment.
A complete list of 2015 Emmy Award nominees using PRG products and services can be found on the PRG website.
Vincent Lighting Systems: Slates Fall Open Houses
Vincent Lighting Systems recently announced the dates for its fall open house events.
VLS will bring in popular manufacturers and their latest products November 17 through 20. Those interested are invited to attend.
Monday, November 16 and Tuesday, November 17, Cincinnati, Ohio area (1420 Jamike Lane Suite 1, Erlanger, Kentucky)
Wednesday, November 18, Pittsburgh, Pennsylvania (920 Vista Park Drive)
Thursday, November 19 and Friday, November 20, Cleveland, Ohio area (6161 Cochran Rd Suite D, Solon, Ohio)
Visit www.vls.com/open-house for details.