News From
Around the Institute
New Contact for Sightlines
A personal note: I wish the best to all of those with whom I have worked since joining USITT more than 17 years ago. It has been a wonderful experience and I will remember it fondly. Barbara E.R. Lucas
For those who are providing information to Sightlines, please send items of interest for upcoming issues to sightlines@usitt.org.
Lindsay Jones Uses Point Source for Wonderland
Lindsay Jones, an award-winning sound designer, was working on the recent production of Wonderland and had to figure out a sound system for 11 actors who also play all the musical instruments in the show. He chose Point Source Audio's CR-8S Cardioid Earworn and CR-8L Cardioid Lavalier microphones. "The mics held up to all the stress we put them through and sounded great," he said.

USITT Leadership Enjoyed Snowbird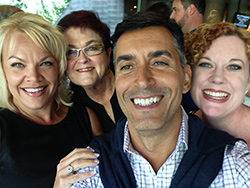 Members of the USITT Board of Directors, Commissioners, and Membership Committee spent several days in August planning for the Insitute's future and exploring the territory around Salt Lake City, where the 2016 Annual Conference & Stage Expo will be held.
Sharing a smile before exploring downtown Salt Lake are Kim Scott, Carolyn Satter, Rafael Jaen, and Kasey Allee-Foreman.
Login, Explore usitt.org
USITT's new website isn't just cleaner, prettier, and more user-friendly, it's interactive!
Members can upload and store resources, join groups and Commissions, search for fellow members of organizations, track their transactions and events, and do even more.
Haven't logged in yet? Take a few minutes to explore the opportunities to connect with USITT and the backstage community via www.usitt.org. Login instructions are under 'News' on the main page.
Questions? Write to info@usitt.org or call the office at 800-938-7488.