News & Notices
Welcome Mark Shanda, USITT's New President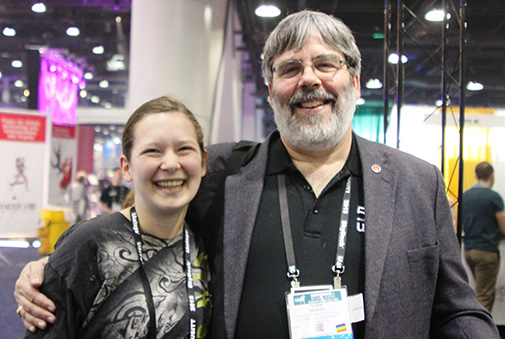 Mark Shanda, USITT's new President, is one of the Institute's biggest fans. It all started at his first Annual Conference & Stage Expo in 1986, at a Technical Production Committee meeting led by then Co-Commissioners Bob Scales and Rick Stephens.
"As each individual stood and said, 'What the Institute needs to be doing is …' Rick would say, 'That's a great idea; glad you're willing to provide leadership to that effort!'" Mr. Shanda recalled. "Then he'd hand them his business card and write down their contact information."
"Rick set the standard for me that day by indicating the Institute could do almost anything to respond to member needs, but it was up to the members to make those ideas move from thought to reality."
Since then, it's a standard Mr. Shanda has held to as a member, Board Member, VP and Fellow – and for 30 years as a professor of technical theatre and administrator at The Ohio State University. He is known for his collaborative leadership style and what Mr. Stephens calls "a penchant for getting things done."
Like many technical theatre folks, he started out acting in a school play "as Little John in a fourth grade production of Robin Hood. But my real engagement in theatre began in high school." Although the freshman was first cast as the head waiter in The Matchmaker, he was replaced and put in charge of props as a "consolation prize."
"I loved doing props and have been involved in technical theatre ever since," Mr. Shanda said.
He majored in speech/theatre and political science at Iowa State University, and then earned an MFA in theatre technology from the University of Wisconsin-Madison. There, he met his mentor and future co-author Dennis Dorn, former technical director at UW-M. Mr. Shanda served as acting TD for a year while Mr. Dorn was on sabbatical before he landed an assistant professorship at OSU.
He has taught many students over the years, been involved in more than 200 productions, and co-wrote Drafting for the Theatre with Mr. Dorn in 1992. (They published a second edition in 2012.)
Mr. Shanda worked his way up to full professor, department chair, and dean of arts and humanities, a position he held from 2010 until he recently stepped down to return to the classroom. His major focus now is to provide leadership for OSU's $200 million Arts District project, including expanding the music school and Wexner Center for the Arts, and providing a new home for the theatre department.
His hope to complete that project within the next 10 years is an example of the long-term thinking he encourages within USITT.
"The Institute is all about the network of passionate individuals, corporations, and artists who all strive to make the very best theatre and live entertainment possible," he said. "We are an organization of doers who are not afraid to take on daunting challenges without clear paths for success, yet we achieve much by working together."
He credits his wife, Ginny, and daughters Ann and Kay with "keeping me grounded" as he enters his second year of a five-year commitment to leading USITT.
"As we face our next 50 years, we will become a year-round educational resource, an active network of individuals who can rely on each other for support and assistance, and a repository of the knowledge and artistry of all those who have gone on before us," he said. "What an honor to serve this great organization at this time!"