News & Notices
Turn of Century Costume Exhibit in Moscow
Costume at the Turn of the Century 1990-2015, an exhibit of international costume design, at the A. A. Bakhrushin State Central Theatre Museum in Moscow, Russia, is scheduled to wrap up September 10.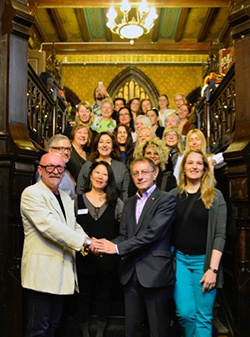 The entire exhibition, along with additional materials selected by the country curators, should be available this fall at www.worldcostumedesign.com.
A.A. Bakhrushin Museum Director Dmitri Rodenov and his staff transformed the two floors of the museum and the adjoining carriage house to accommodate the more than 1,500 pieces of work on display. Vasilina Ovchinnikova designed the display to focus on the large format printed images accented by digital screens and actual costumes. The curatorial team selected 300 designers from 31 counties. The exhibition was such a success, its run was extended twice.
Prince Nikita Lobanov-Rostovsky, legendary art collector of the theatre Avant-Guard, left an entry in the guest book at the Theatre Museum, "Bravo to you for taking the initiative to create this exhibition. The catalog will be an even more significant achievement and will provide an opportunity to get acquainted with the works of many present-day artists of the theatre at the turn of the century."
For designers present at the June 29 opening ceremony (coinciding with Prague Quadrennial 2015), the museum staff organized a cultural program in Moscow and St. Petersburg including a special showing of the extensive collection of set and costume renderings for the 1917 production of Mikhail Lermontov's Masquerade. The collection from the performance, directed by Vsevolod Meyerhold at the Aleksandrinsky Theatre in Petrograd and designed by Alekxandr Golovin, had over 600 costumes and 25 sets. A visit to Mr. Meyerhold's apartment provided even more examples from this extraordinary production. During a tour of the Stanislavsky Music Theatre, participants glimpsed its sizeable paint studio, extensive costume storage, and multiple construction rooms.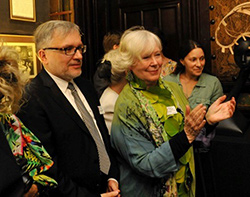 A second opening ceremony was held on June 29 for those designers who came after attending the Prague Quadrennial. Participating designers from countries around the world, including USA, Japan, Poland, Bulgaria, UK, Italy, Australia, Uzbekistan, Netherlands, Taiwan, Brazil, Mexico, Spain, Venezuela, Greece, Canada, Serbia, Denmark, Belgium, China, and Ukraine, were in attendance
Visitors saw the Moscow Art Theatre School's year-end student projects for scenography and costume design and technology, and gathered Russian designers for a reception. Dmitry Krimov's production of Tarabumbia was a highlight, with a cast of over 50 actors to portray a continuous parade and an epic performance visualizing a mashup of the convergence of Russian history with the plays of Chekhov. In St. Petersburg, designers toured the Peterhoff, Peter the Great's summer palace, the backstage of Marinsky Theatre, and the Hermitage Museum in addition to viewing performances of Swan Lake and La Traviata.