Conference & Stage Expo
The Sound of Salt Lake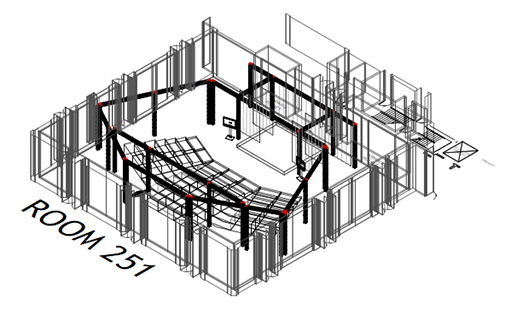 Next year is a sound year for USITT. The third biennial SoundLab will rock the Salt Palace Convention Center at Salt Lake City 2016 Annual Conference & Stage Expo -- and the Sound Commission has many audio attractions in store.
SoundLab adds innovative programming each time it's offered, and 2016 will be no different, said Erik Alberg, Sound Commission Vice-Commissioner for Programming.
"We are going to create a full theatre with raked seating in a ballroom," he said. "It will include a stage, tiered seating for the audience, and a multi-channel surround system that will proved participants and attendees a completely new experience. It will also allow people to walk around the outside of the theatre space to see how it is brought together."
The design and programming are a tribute to the late Steven Brown, head of sound at the United Kingdom's Royal Exchange Theatre and a giant in the field of sound design who died of cancer in July 2013, Mr. Alberg said.
"Steven Brown was well known for creating intricate and amazing surround environments for productions, and for encouraging and inspiring many other designers to do the same," Mr. Alberg explained. "His work is truly an inspiration for this environment, and it is in tribute to him that we are working to create it."
New programming includes a Student SoundLab Project that will guide high school, college, and grad school students through a full design process starting this fall. Read about and apply to the SoundLab Student Project here.
Completed student design concepts will be submitted to a jury, and those chosen will be presented in the SoundLab, with opportunities for feedback from peers and mentors.
Professional sound designers – including UK sound designer John Leonard – will present in the space in what Mr. Alberg describes as an "Iron Chef" style format, designing live in front of an audience and commentators. The Sound Commission also will celebrate Mr. Leonard's career and present him with the USITT 2016 Distinguished Achievement Award in Sound Design.
SoundLab will be the site of the Sound Commission's Professional Development Workshop on the Tuesday before the Conference. Sam Kunsetz of Figure 53 will present an advanced workshop on Using QLab for Surround Environments. Sessions will be searchable on www.usittshow.org in early October.
Other sound sessions include More Than One Way to Skin a CAD, Composition and Creation Aesthetics for Surround, and Recording Sound Effects in the Field with John Leonard.
2016 also features the return of the Live Sound International Loudspeaker Demo, which premiered at USITT last year. LSI and ProSoundWeb will hold their unique demonstration of side-by-side listening to 13 different compact loudspeaker systems in a controlled environment.
This event was a hit at USITT 2015 and offers a chance audiophiles will not want to miss. Each participating speaker company will offer a dedicated, 15-minute demo session for interested attendees on both Wednesday and Thursday of the Conference.