Spotlight on Giving
Seeing Where My Support Goes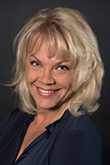 I back USITT financially because I know how much is needed to create and grow vibrant programs. My time on the Board of Directors and my strong involvement in eSET and being a co-founder of Elite Training mean I can see how my dollars are being used.
Kim Scott is Company Manager for the Cirque du Soleil productions CRISS ANGEL Believe and The Beatles LOVE, both in Las Vegas
Donors from July 15 to August 14, 2015:
Kook Fund
Alexandra Bonds
Laura Crow
Dennis Dorn
Andi Lyons
Sylvia Pannell
Loren Schreiber
Mark Shanda
Charles Williams
New Century Fund
Tammy Honesty
Andi Lyons
Juan Sanchez
Janet Swenson
Charles Williams
New Century Fund - Rigging Safety
Beth Martell
Kim Scott
H&H Specialties Inc.
New Century Fund - Diversity
Kasey Allee-Foreman
Rafael Jaen
Andi Lyons
Michael Mehler
Samuel H. Scripps International Fund
Alexandra Bonds
Laura Crow
Krystal Kennel
Kevin Rigdon
Loren Schreiber
USITT Fund
General Operations
William Browning
Rosalie Contino
Daniel Culhane
Dennis Dorn
Emily Gill
David Grindle
Mickey Henry
Carl Lefko
Andi Lyons
Syliva Pannell
Juan Sanchez
Carolyn Satter
Loren Schreiber
Sherry Wagner-Henry
Kimb Williamson
Fellows Fund
Alexandra Bonds
Coleen Scott