News From
Contributing Members
Philips Vari-Lite: Luminaires Transform NYC Center for Zorba!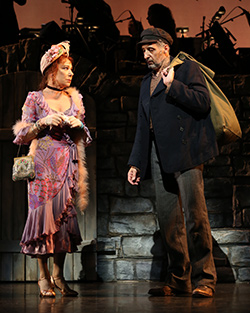 The New York City Center recently completed its production of Zorba! as lighting designer Ken Billington (winner of the first Wally Russell Mentoring Award from USITT and the Wally Russell Foundation) transformed the historic stage into an island off the coast of Greece with the VL4000 Spot luminaire from Philips Vari-Lite.
The VL4000 Spot includes all the tools needed to create dynamic and useful lighting since it was designed with performance in mind. The 1200W VL4000 Spot boasts 33,000 lumens as well as a quiet Studio mode which outputs 25,000 lumens. Its high resolution optics ensure remarkable center-to-edge focusing and an unprecedented contrast ratio while a 5:1 zoom covers an amazing 9 to 47 degrees without sacrificing output or clarity.
Hung overhead on the first and second electric, the VL4000 Spot luminaires were trimmed at 28 feet. As Billington got to work with his programmer lighting the show, he had a specific purpose for the high-powered luminaires.
"In the show, the VL4000 Spots handled my specials with gobos and specific color washes," said Mr. Billington. "What truly made them fabulous, in my opinion, was that their brightness really made the gobo projections punch through the 200 conventional fixtures that were lighting the performance area."
For more information visit www.vari-lite.com, follow us on Twitter, join our Facebook community, or watch us on YouTube.
Meyer Sound: University Steers Clear of Reflective Surfaces with CAL
At North Carolina's Elon University, a steerable Meyer Sound CAL column array loudspeaker system provides clear speech and music in the Great Hall, a large common room with acoustically reflective architectural elements typically found in centuries-old European institutions.
"The plan was to use the room for everything from video game tournaments and movies to graduation-related ceremonies, and CAL has proven ideal on all counts," said Joe Davis, assistant director of campus technology support and solutions architect for Elon University. "The vast expanse of windows on three sides, plus one largely flat, sheetrock wall, create a highly reverberant space that could be over-excited by amplified sound. And any permanent system had to be practically invisible while still providing high-level, full bandwidth sound. The CALs disappear into the décor and really do the job."
Two, color-matched CAL 96 loudspeakers are mounted 13 feet high alongside wood-finish columns flanking the hall's massive fireplace. Programmed with a downward beam tilt, each CAL loudspeaker covers half the floor area. Two UP-4XP loudspeakers fill in the extreme side corners, while two M1D-Sub subwoofers are concealed in the central columns. A Galileo loudspeaker management system with one Galileo 408 processor provides audio distribution and optimization. The room's complete AV infrastructure was designed and installed by Audio & Light of Greensboro, North Carolina.
The Great Hall audio system also incorporates a Biamp Tesira DSP unit for mixing and processing, with a variety of inputs available for connecting microphones, a Blu-ray player, or video game consoles. Two Shure wireless receivers are available, pairing with either SM58 handheld or WL185 lavalier transmitters. The audio system supports two NanoLumens video screens. A Crestron CP3N system handles overall AV control, with four user interfaces around the room.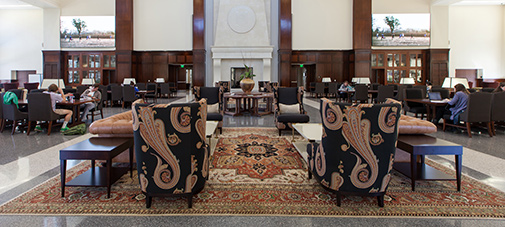 Rose Brand, IATSE: Team Up for Annual Rigging, Products Seminar
The 4th Annual Rigging & Products Seminar, presented by Rose Brand and IATSE Local 1, was held July 20.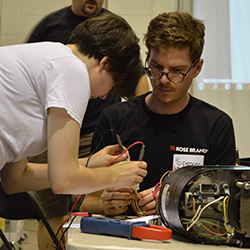 Participants took part in hands-on activities with products in two seminar sessions, Curtain Track and Chain Hoists & Rigging Hardware. Hands-on experience is the biggest request Rose Brand heard from previous seminars. This year's seminar maximized the time participants had to work with the materials.
Jim Claffey, president of Local 1, stopped by during the course of the training day and gave a brief speech describing how special he considers the relationship between Rose Brand and Local One. He called George Jacobstein, president of Rose Brand, and his staff "truly great friends and like family to the Local."
To view photos of the 2015 event, visit bit.ly/2015LocalOne.
While Local One is the primary sponsor from IATSE, the seminar was open to IATSE members from all Locals. Participants included IATSE Locals 1, 11, 21, and 340 as well as Hudson Scenic, PRG Technologies, and Purchase College.
ETC: Introduces Programming Wings, Names Regional Sales Manager
ETCnomad users value the portability of their lighting systems, but sometimes the fast-paced production world calls for more than virtual keyboards and X-key controls. Luckily, ETC has a solution waiting in the wings. Enter the new Eos and Cobalt Programming Wings, two affordable, portable accessories that bring new programming power to tech tables, backstage remotes, and the road.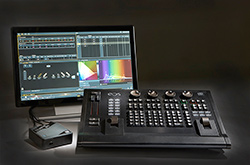 The new ETC Eos Programming Wing provides a portable home-base for the programmer on the move, allowing users to travel with physical control surfaces to supplement ETCnomad Puck or PC/Mac-based systems. The Programming Wings fit in dedicated, robust flight cases that can be easily checked as luggage.
The Programming Wings use the same programming layouts as the Gio and Cobalt 10 facepanels, so users can transition to the road without altering their workflows or hunting for keys.
Wings are VESA-mountable for temporary or permanent installation backstage, in a rack, or on a tech table. The Programming Wings can be connected to an Eos/Ion RPU (Remote Processor Unit), RVI, RVI3 (Remote Video Interface) or a Cobalt Light Server to create a remote programming interface wherever needed. Measuring approximately 20 inches by 14 inches and weighing in at 9.5 pounds, the Wings can easily be carried from room to room or packed away when tech is over.
Learn more about the Programming Wings and by watching youtu.be/evqrzE59-s0, or visiting www.etcconnect.com.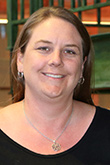 Heidi Bowers has been named ETC's new regional sales manager for the southwestern United States. In this new role, she'll oversee sales in the region and work closely with ETC representatives and dealers to provide the best support to customers.
Ms. Bowers graduated from Northern Arizona University in 1999 with a bachelor's degree in theatre design and technology with an emphasis in lighting design and stage management. She began her career with ETC that year as a systems estimator for the West and Latin America.
In 2003, she became the field project coordinator for the Southwest and Latin America. As field project coordinator, she provided technical sales and support for the region, assisted ETC's regional sales manager and supported local representatives, dealers, and distributors. Ms. Bowers was also responsible for demonstrating ETC products, and helped train end users, consultants, engineers, dealers and more.