News & Notices
OISTAT Commission Explores Connections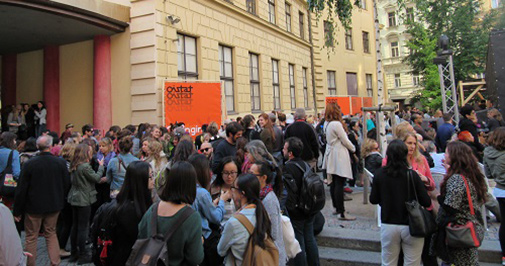 OISTAT's Publication & Communication Commission focused on several of the organization's new initiatives at its June 21 meeting in Prague, Czech Republic.
Initiatives for the year include OISTAT's Core Strategy Project, exploring new connections for theatre practitioners and students within OISTAT's membership, expanding existing reference databases, and improving OISTAT communications.
Following the success of Cultural Landmark & Its Communities, OISTAT's recent arts management symposium in Taipei, the Publications & Communication Commission will explore interest in future activities from arts managers. Five graduate students from the National Taiwanese New University – Graduate Institute of Performing Arts participated in OISTAT's Core Strategy Project, an eight-month arts management learning experience which provides participants a practical case study examining international arts organizations. Students will investigate the organization's history, explore its decision-making process, and network with members of the executive committee, headquarters, and Publications & Communication Commission.
Commission members discussed ways to improve information exchanged among OISTAT centres. Currently, OISTAT provides updates to members across several social media platforms including LinkedIn, Facebook, and Twitter. Any USITT member can receive OISTAT's monthly electronic newsletter which provides news from headquarters, information about upcoming international conferences, and current calls for presentations. Subscribe to the OISTAT newsletter by email.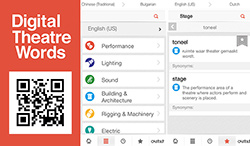 Jerôme Maeckelbergh presented an update on Digital Theatre Words, a theatre technology translation dictionary, with over 2,000 terms in 24 languages. The app versions support iOS 6.0 devices or later (compatible with iPhones and iPads) or Android 4.4.1 devices. The free trial version allows users to sample the translation dictionary with 20 complimentary searches.
World Scenography 1990-2005 (Volume 2) was launched during OISTAT's Cultural Landmark & Its Communities symposium in October 2014. Edited by Eric Fielding and Peter McKinnon, Volume 2 continues the extensive work of World Scenography 1975-1990. There is a discount when purchasing both volumes together. For more information about the book series and purchasing information, visit www.yorku.ca/wrldscen.
For more information about OISTAT, visit www.oistat.org.