News From
Sustaining Members
Sapsis Rigging Inc.: Adds Rope Access Harness to ProPlus Line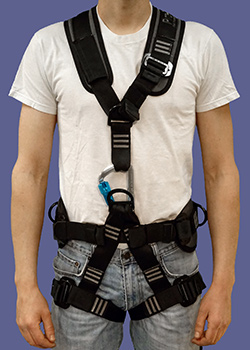 Sapsis Rigging Inc. has added the Rope Access harness to its family of harnesses in the ProPlus Fall Protection line.
Designed by Bill Sapsis specifically for entertainment technicians, the ProPlus Rope Access harness enables a worker to safely access difficult locations as well as provide fall arrest protection.
Mr. Sapsis explained, "Entertainment technicians work long hours in difficult locations, and I wanted to offer a harness that is as light and comfortable as possible without sacrificing any of the features that entertainment technicians have come to expect from a ProPlus harness."
The Rope Access harness weighs just five pounds and meets all applicable OSHA regulations and ANSI/ASSE Z359 standards for personal protection equipment (PPE). It features five D-ring attachment locations including the preferred dorsal fall arrest point on the upper back, two hip rings, a waist ring and a sternum ring. Two convenience loops at the hips keep tools in easy reach. It comes in sizes from XS to XL to fit waists from 28 to 52 inches. The list price for the harness is $330.
The ProPlus™ Rope Access harness made its official debut in the Sapsis Rigging booth 827 at the USITT Annual Conference & Stage Expo in Cincinnati, Ohio March 18 to 21.
Alcons Audio: Expands USITT Presence on Multiple Stages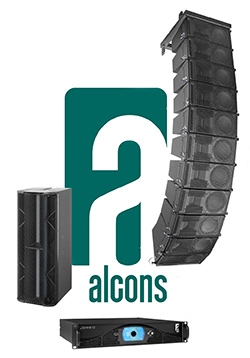 With Alcons Audio establishing itself as a leading player in the U.S. theatre market, the company expanded its presence at the USITT Annual Conference & Stage Expo in Cincinnati, Ohio. As well as presenting its latest products, Alcons provided audio systems for a number of the show's events.
At its booth at Stage Expo, it highlighted its RR12 modular point-source array and QR24 pro-ribbon line-source column, as well as a selection from the company's pro-ribbon system portfolio.
Alcons systems were used throughout the show, including in the Live Sound Compact Loudspeaker Demo. For the first time, the well-known loudspeaker comparison event took place at USITT, with eight participating loudspeaker brands. The Alcons demonstrations of the LR7 micro pro-ribbon line-array took place March 18 and March 19.
Alcons provided the audio system for the Opening Night Cocktail Party, the New Products Showcase and Stage Expo Preview, and the Exhibitor Buyer Cocktail Party.
"As an event focused specifically on the live theater market, we are pleased to be able to increase our involvement at USITT," says Alcons Audio U.S .Sales Manager David Rahn. "Historically it has provided solid leads and actual sales/installations for Alcons in the U.S. It is also an event where we are able to expose our advanced technologies to the students that will make up many of the theatre operators of the future."
For more information visit www.alconsaudio.com and www.usittshow.com
Stagecraft Institute of Las Vegas: KCACTF Students Part of 2015 Session
Stagecraft Institute of Las Vegas is proud of its partnership with KCACTF forged several years ago by Don and Jan Childs. Students from eight KCACTF regions have been selected to attend SILV 2015.
The experiences offered to KCACTF participants over the years has added greatly to the mosaic that has become known as the SILV.
SILV also has limited weekly and 8-week scholarship opportunities still available so if you have a student who is ready for the next level of training please nominate them to Jane Childs at jane@stagecraftinstitute.com by April 15!
TMB: Mozarts, Flares Rock Usher
One hundred eight of Solaris LED's unique new Mozart lighting fixtures, distributed by TMB, are featured in the spectacular show designed for the 2014-15 Usher UR Experience World Tour.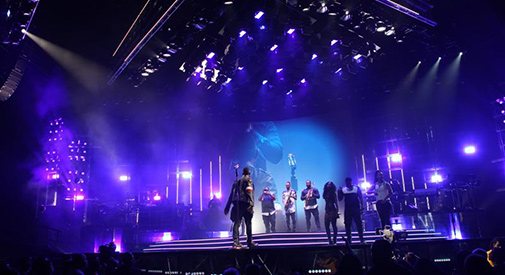 Mozart fixtures, weighing just over one pound, are ideal to use as direct eye candy or to add indirect texture to any design Programmer and Associate LD Eric Marchwinski explained.
Also featured in the tour's design are 56 Solaris LED Flares. Super-bright Flares are the ideal high-performance LED wash, strobe and blinder – in a single fixture – saving on material, freight, labor, power, and time.
The recently introduced Mozart has appeared on a number of high-profile sets, including The Grammys; Beyoncé/Jay Z On the Run HBO Concert Special, The X-Factor UK Finals, and very recently Usher/Blake Shelton co-headlining at AT&T Stadium in Dallas. Solaris LED Flares have been specified for prestigious productions such as Super Bowl Halftime; The Academy Awards; The Grammys; Eurovision Song Contest; Miami ULTRA Music Festival; and concert tours for Kenny Chesney, Bruno Mars, Justin Timberlake, and countless others.
TMB is exclusive worldwide distributor for the Solaris LED range of fixtures, including Flare, Mozart, Linear RGBW, and the new SoLED strobe. See more info at www.tmb.com/solaris-led. Learn about more innovative and exciting products from TMB at www.tmb.com.
Chauvet: Small LED Fixture Packs Powerful Punch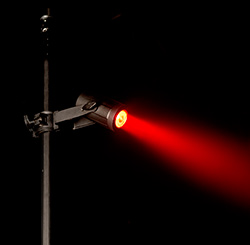 When big, bold color is needed in small, cramped spaces, Chauvet Professional's COLORdash Accent Quad provides the perfect solution. A mini, RGBA par-style wash fixture, the COLORdash Accent Quad is about as big as the palm of a hand -- yet it's more akin to a prize fighter's fist in its ability to deliver a knockout punch of color to tight locations.
Powered by a 10-watt Quad-Color (red, green, blue, amber) LED, with an impressive output of 140 lux at 5 meters, the COLORdash Accent Quad can create a limitless spectrum of brilliant, saturated colors and vibrant, true pastels. Smooth, evenly mixed RGBA color blending can be done manually in standalone mode or via a DMX controller. The versatile fixture features a variety of DMX channel profiles (4-. 6- or 10-channel) to accommodate both simple and complex programming needs.
Another very convenient feature, not typically found on a unit the COLORdash Accent Quad's size, is an onboard OLED display that makes it easy to control and address the fixture in DMX or standalone mode.
For further versatility, the COLORdash Accent Quad includes a variable electronic dimmer with four different dimming curves. It is also equipped with an electronic shutter/strobe with a variable rate of 0 to 33 Hz.
Vectorworks: Van Broeck, McGregor Keynotes at Philly Design Summit
Designers who dream of transforming the world are invited to join a community of visionaries at the 2015 Vectorworks Design Summit April 27 to 29 at the Sofitel Hotel in Philadelphia, Pennsylvania. The event features breakout sessions by leaders in the architecture, landscape, and entertainment industries, as well as opportunities to network with Vectorworks software engineers, power users, third-party partners and other professionals. Registration is now open at www.vectorworks.net/design-summit.
On Tuesday, design visionary Leo Van Broeck, a founding partner of Bogdan & Van Broeck in Belgium, will share his theory that the design of attractive, dense and high-quality urban areas is a catalyst for changing how much space people think they need to lead enjoyable and meaningful lives.
Adrian McGregor, FAILA, RLA, MAIH, MPIA, managing director of Australian landscape architecture and urban design firm McGregor Coxall, is Wednesday's closing speaker. He transforms public spaces across the world into living, breathing works.
The early-bird registration fee is $399 and expires March 31. Beginning April 1, registration is $499. There is an academic rate for students and instructors of $99, Attendees can also enjoy a discounted room rate at the Sofitel Hotel.
Visit www.vectorworks.net/design-summit to view the growing list of speakers, sessions and events, and to register online.
Clear-Com: Linking Multiple Intercoms Now Breeze
Clear-Com, the leader in wired, wireless, and IP communications now brings new connectivity solutions with LQ Series IP interfaces.
LQ devices link together any combination of 2-wire partyline and 4-wire intercom/audio systems over IP circuits - house LAN, corporate WAN, or Internet connections. No additional cabling required.
Deploying LQ devices is as simple as 1-2-3. Simply connect LQ devices to intercom systems, set up the connections on an intuitive browser, and connect production teams from any remote location -- across town, across country, or anywhere in the world.
Find out more at www.clearcom.com/about/whats-new
GLP: Showcasing Usher on Tour
When American R&B/Hip-Hop star Usher set out on his 50-date The UR Experience U.S. and European tour to promote his latest album , his touring LD Eric Wade (of FOHShow) was carrying an inventory that included no fewer than 216 of GLP's compact and highly flexible impression X4 S LED spots.
These are mainly deployed on the upstage wall of the automated ladders. Mr.Wade confirmed, "I wanted a wall of light from the very beginning …. The lighting system is a combination of asymmetrical and symmetrical. However, the GLP ladders are symmetrical and run on automation up/down/stage left/stage right and we could get many different looks out of them as a result."
Despite the large quantity deployed, the X4 S is introduced very gradually into the show. "I didn't want to turn on all 216 units on the upstage wall in the first song and lose that element of surprise, because when they do all come on at one time you can't help but look on in awe."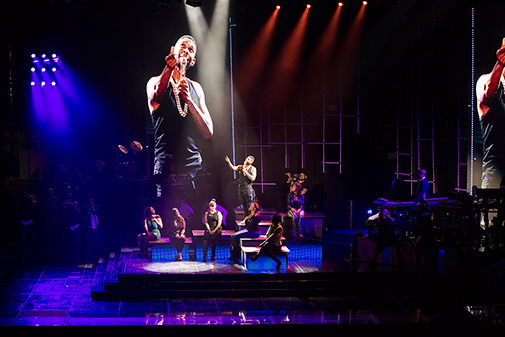 Mega Systems, Inc.: Mega Systems New Website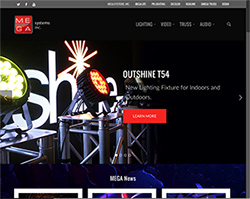 Mega Systems, Inc. recently launched its brand new website at megasystemsinc.com. It has several new features designed to give visitors a better online experience.
The website features a more modern look and feel that is responsive to display beautifully on mobile phones, tablets, and desktops. Now visitors can enjoy all the features the website has to offer from any device.
Navigating the website is easier with two menus to search for products. Visitors can look for gear by category or by brand, depending on their familiarity. Additionally, the new search menu allows visitors to instantly locate products, news entries, upcoming events, and much more.
The new website also makes getting product support easier. The support page gives visitors direct access to request service with the use of its online form.