News From
Contributing Members
Rose Brand Inc.: Special GaffGun Offer
Rose Brand Inc. is offering a special on the new GaffGun. For a limited time, purchases of the GaffGun Package will include up to $93 in savings on a case of tape.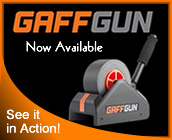 The GaffGun simplifies the job of laying tape over cable while saving time, money and back pain. Cables don't even have to be straight – the GaffGun straightens and centers cables and then lays tape over them.
The GaffGun is a patent-pending floor tape dispenser developed by Seattle-based GaffTech. It uses interchangeable patent-pending CableGuides to gather cables or wires and straighten them underneath the tape, with different sizes of guides available for different numbers and sizes of cables.
To see the GaffGun in action and to learn more, visit bit.ly/rbgaffgun.
Meyer Sound: Marc Anthony Tour Uses LEO, LYON System
At the request of FOH engineer Jose Rivera, a Meyer Sound LEO and LYON linear sound reinforcement system was deployed for Marc Anthony's recent mini tour. The shows—which included 360-degree productions in New York and New Jersey—were Anthony's first North American concerts to be heard through a LEO system.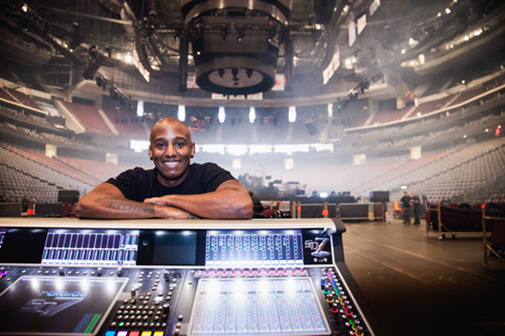 "Everybody was extremely happy with the performance of LEO and LYON, both on stage and throughout the audience," reports Rivera, who first used LEO at a stadium concert in Peru.
The largest deployment on the mini tour was at the Prudential Center in Newark, New Jersey, where eight main hangs each comprised 10 LEO-M, four LYON-M main, and two LYON-W wide-coverage line array loudspeakers. Sixteen MICA loudspeakers served as front fills, with cardioid configurations of eight-each 1100-LFC low-frequency control elements at each stage corner. Stage foldback comprised one MJF-212A and 16 MJF-210 stage monitors, in addition to arrays of four-each MICA loudspeakers at each stage corner for side fill. The system was tuned and driven via a Galileo Callisto loudspeaker management system with 13 Galileo Callisto 616 and four Galileo Callisto 616 AES array processors. VER Tour Sound provided the system for all shows. To contact VER Tour Sound, e-mail Ralph Mastrangelo at Ralph@verrents.com.
ETC: EDM, Eos, and Acronym Mayhem
Anyone born before 1990 may not know that EDM stands for Electronic Dance Music – the offspring of a musical orgy attended by disco, techno, house, and reggae sometime in the late '80s. EDM has re-emerged as the fastest growing sector of the live-entertainment industry. So what's ETC doing in this throbbing mix?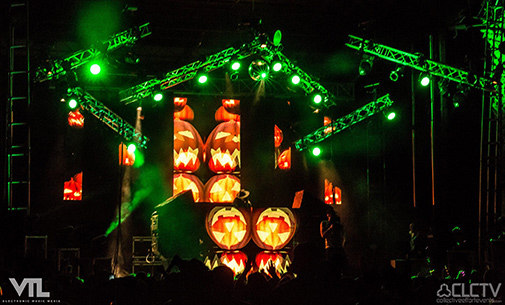 The answer is another three letter word –– Eos. EDM may appear like a lot of random flashing, but it puts a lighting console through a stress test unlike any other show. Without the luxury of a script or a set-list, the EMD lighting designer has to create an infinite series of dramatic looks that match the feel of the music and support the strong video images that are another hallmark of the genre.
Tom Schneider, an ETC tech and console trainer in the Hollywood office, has designed and operated EDM shows since he was old enough to sneak out of the house to light raves in warehouses. He believes that Eos is the perfect tool for the job. "What really sets this console apart from other high-end consoles, like grandMA2 or Hog, is the effects engine. It's pretty darned cool. The effects engine is programmable to anything I could possibly want."
In a show with cues firing with every eight or 16 measures of music, the designer has to set up timed fades – complex moving-light cues using additive and inhibitive command-lines as well as dramatic color shifts. With three, ten-point native touchscreens and the ability to run three more through the TVI, the Eos Titanium (Eos Ti) desk has a tactile, immediate quality that works for EDM and rock and roll.
To learn more about the ETC Eos family of lighting control, visit www.etcconnect.com.
Creative Stage Lighting: Offers HOG 4 Training
High End Systems distributor Creative Stage Lighting has been conducting training sessions for High End Systems's HOG 4 consoles. The company will continuously hold courses with dealers and other partners in the United States.
The training sessions consist of two days of hands-on training and are taught by Sales Engineer Phil Heid, who has been formally trained by the High End Systems staff onsite in Austin, Texas. Students taking the course will learn basic and intermediate HOG 4 programming techniques, including console layout, launching and managing shows, patching and editing fixtures, groups, palettes, and directories.
Each two-day session is priced at $499.99. Students are provided with their own HOG 4 console to use for the duration of the class.
CSL dealers interested in hosting HOG 4 training events are encouraged to speak with their CSL sales rep. For more information on Creative Stage Lighting's HOG 4 training sessions go to www.creativestagelighting.com/training.
Philips: Spots are 'Lightning in a Bottle' for SPAMALOT
Click here for high res production photos
Known for its professional productions throughout Northwest Missouri, the Robidoux Resident Theatre recently produced the musical comedy SPAMALOT. Jeff Stover, assistant professor/technical director at Missouri Western State University, was asked to create a lighting design that could match and enhance the whimsical satire of the show itself. To accomplish this, he wanted to be able to take the design to an extraordinary level, so he brought on the additional support of VL440 Spot Luminaires from Philips Vari-Lite.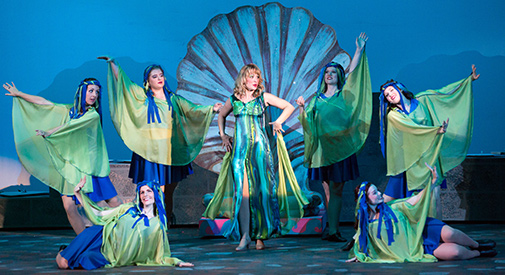 "With SPAMALOT being so over-the-top in style, it gave me opportunities to take the lighting over-the-top as well," said Mr. Stover. "This was definitely one of the shows where you could do the bump and flash with color mixing and have it fit perfect with the story. The Vari-Lite color mixing system was fantastic in this regard and the VL440 Spots were definitely the workhorses of the show."
The VL440 Spot luminaire is complete with all of the optical quality and functionality designers have come to expect from Philips Vari-Lite. The VL440 Spot luminaire provides powerful color mixing through its three-wheel CYM color assembly, and when combined with eight standard colors on a fixed wheel, the color options are practically limitless. The fixture uses a 400-watt MSR Gold 400 MiniFastFit lamp for its impressive lumen output, has a zoom range from 15-35 degrees, and has a mechanical iris for continuous beam control.
Vari-Lite automated lighting systems are available through a worldwide network of independent professional dealers. www.vari-lite.com.
IATSE Local 58: Organizes Crew at Daniels Spectrum
On February 4, the Ontario Labour Relations Board certified IATSE Local 58 as the bargaining agent for all stage employees of Toronto Artscape working at the Daniels Spectrum.
After a brief organizing campaign, Local 58 filed for certification of stage employees at the venue on August 7. Located in Toronto's Regent Park, Daniels Spectrum is committed to supporting the creation and production of visual and performing arts in this downtown neighborhood. It is comprised of three spaces: the Artscape Lounge for small performances and exhibits, the MDC Partners Courtyard for smaller outdoor productions, and the Ada Slaight Hall, which features a large performance and event space that can accommodate up to 400 seats.
Founded in 1893, the IATSE is the largest union representing workers in the entertainment industry.
PRG: In Memoriam – Joseph P. Harris
PRG Board Member and award-winning theatrical producer, Joseph P. Harris, 87, died February 11 at his home in Greenwich, Connecticut. As a producer and general manager, Mr. Harris had been associated with over 200 Broadway productions. He was the father of PRG Chairman and CEO Jeremiah "Jere" Harris.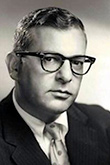 During his 54-year Broadway career, Mr. Harris crossed paths with many artists, including the legendary Bob Fosse, producing Fosse's Chicago and the revival of Sweet Charity starring Debbie Allen. Sweet Charity brought him the first of his three Tony Awards for Best Reproduction of a Musical in 1986. He had a prosperous two-decade collaboration with Ira Bernstein. Shows under their management tutelage include Pippin, The Apple Tree, 1776, The Norman Conquests trilogy, The Act, and Sophisticated Ladies.
In his role as general manager, he helped launch the musicals Mame starring Angela Lansbury, directed by Gene Saks; the original Sweet Charity, directed by Bob Fosse and starring Gwen Verdon; Sophisticated Ladies with Gregory Hines and Judith Jamison; and My One and Only with Tommy Tune and Twiggy.
A more complete remembrance, including a slideshow of Playbill covers from his vast production credits can be found here.