News From
Around the Institute
Record-Breaking USITT 2015
USITT's visit to Cincinnati broke all previous attendance records for the Annual Conference & Stage Expo. Almost 5,500 packed sessions and visited a record 280+ exhibitors on the show floor.
Look for images from the event throughout this issue of Sightlines, with followup reports in the May and June issues, too.
Now it is on to Salt Lake City, March 16-19, 2016.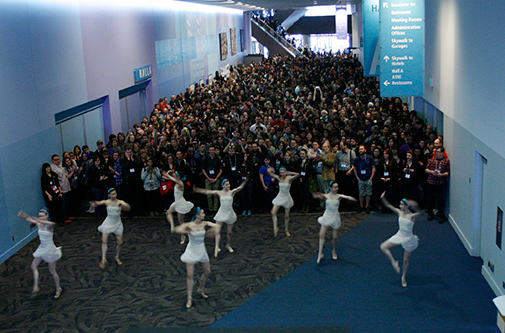 Don't Miss Germany, Czech Republic Study Tour
There is still time to sign up for the USITT Tour of Germany and the Czech Republic. Stops are planned to include many major theatres and historic sites. The June tour will feature visits to the Scene /Set/ Stage in Berlin and the Prague Quadrennial of Performance Design & Space.
Tour leaders are Mike Monsos and Alessia Carpoca.
For information or to sign up, visit www.usitt.org/2015studytour
Long Reach Long Riders 2015
The 12th annual Long Reach Long Rider charity motorcycle ride begins Sunday, May 31 in Nashville, Tennessee and winds its way through the Ozarks.
The ride benefits two charities: the PLASA Foundation's Behind the Scenes program and Broadway Cares/Equity Fights AIDS. In the first 11 years, the riders have raised over $450,000. The riders pay all of their expenses including travel, lodging, meals and fuel. All donations go directly to the charity.
Each year the Long Reach Long Riders attract an eclectic group of riders; most hail from the entertainment industry. There are university professors, riggers, business owners, venue managers, students and stagehands, as well as technical directors and others from various segments of the industry. Many have made this their annual vacation. No matter their background, all of the riders have a common goal -- to support the work of these two worthwhile charities.
If you can't hop on a motorcycle and ride, be a part of something important and donate. For information on making a donation, visit lrlr.org.