News & Notices
What Makes a Rising Star? Q & A with Chris Wood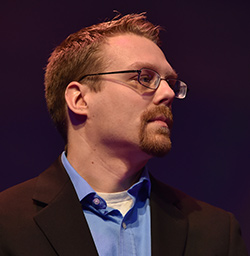 Lighting and sound designer Chris Wood has his high school band director to thank for his career in technical theatre. Growing up in Omaha, Nebraska, he played trombone in the jazz and marching bands.
"One day after practice, the band director asked me to help set up some lights for an event," he recalled. "I said, 'Sure!' And after that, I never stopped doing it."
Chris Wood went on to pursue lighting design at the University of Nebraska Omaha, and received his MFA from Indiana University in 2011. His work since earned him the 2015 USITT Rising Star Award sponsored by LDI/Studio Live Design.
Here is USITT's Q&A with Chris Wood, who received the 2015 Rising Star Award sponsored by
Q: Were you a theatre geek growing up?
A: No, my family and I never saw shows. It wasn't until my band director got me involved in lighting that I discovered theatre.
Q: So then you went to college for lighting design?
A: I went to undergrad for two years and realized that college was not for me at the time. I got a job at J&S Audio Visual in Omaha, where I got to learn a lot of things really quickly. The bad thing was, I didn't have a mentor, so it was kind of, 'Here you go!' But I got to do a lot of things, from lighting and sound for bar bands to corporate events.
The corporate gigs paid really well, and I got to play with the newest toys and make things look really pretty. But I missed doing theatre. I missed the storytelling aspect of theatre. So I decided to go back and get my undergrad degree with the idea of going on to grad school.
Q: How did you end up doing sound as well as lighting design?
A: When I first started at UN-O, I wanted to be a lighting designer, and they said, 'You know what? You're going to be a sound designer.' So my second semester, they stuck me in the sound booth and said, 'Here's the manual.' I had a lot to learn by being thrown into the fire. So then, after I left and came back to finish my degree, they said, 'You actually are a good lighting designer!'
Although I bill myself as a lighting and sound designer, I am much more of a lighting designer. I would say I do 75 to 80 percent lighting and 25 to 30 percent sound. If it's a play, I prefer to do the sound design. If it's a musical or an opera, I prefer to do the lighting design. I think I associate lighting a lot more with music and the emotions that come from music, so it's more involving. And then with sound design, I love to create an atmosphere with sound. There's so much you can do in a play to set the scene with sound.
Q: How were you introduced to opera?
A: I had just graduated with my undergrad degree, and the Des Moines Metro Opera was looking for a master electrician. They said, 'Would you like to work with us?' I said, 'Sure!' and a whole new world opened up to me. I had never seen an opera, and the thing I like about it is how closely the emotions and the music are connected.
Q: Do you ever do both sound and lighting design for a production?
A: If I am asked to do both, I look at the show carefully to see what the demands are … and especially whether there is potential for undergraduate students to assist and to guide them on what to look for and ask for in different situations. If I am designing lighting and sound, it means I am able to delegate more. I really enjoy mentoring. If someone is interested in learning, they can definitely approach me, and I would try to find an opportunity to match their skill set.
Q: Are you usually working on more than one show at a time?
A: I hope so. I am an adjunct professor at UN-Omaha, and as part of that I design two shows, Freakshow and As You Like It, which is great. On both productions, I have young designers to assist me, so I can really give them a chance to try things out, and I'm very excited about that. And I'm working on the next season for the Utah Festival Opera, so I'm designing for four productions: La Boheme, Carousel, Man of La Mancha, and How to Succeed in Business Without Really Trying.
I try to work on them all at the same time and delegate. So for the next couple of days I might work on Freakshow, then the next couple of days work on Utah, then As You Like It, and I would rather do that than be bored. As a freelancer, there are some slow times, and then all of a sudden you get really busy, and I'd rather be busy and working.