News From
Regional Sections
Desert State: Clearwing Young Professionals Award
Mindy Judson-Garcia is the first recipient of the Desert State Regional Section's newly established Clearwing Young Professionals Award.
The Section will pay for one year's national USITT membership at the early career level. If the recipient is able to attend the national Annual Conference & Stage Expo, the Section will also pay the registration fees as part of the award.
The award's name acknowledges Clearwing Productions' ongoing and unique sponsorship of, and partnership with, the Section.
Although specific application and adjudication criteria still need to be established, Ms. Judson-Garcia was a highly deserving and qualified applicant to this year's student awards program and now qualifies as a young professional after graduating in December. She said her participation in her student chapter and the Desert State Section, as well as attending the national conference have been instrumental in her academic and professional achievements. These include working as an apprentice at the Sante Fe Opera last summer, and landing a full time job at Clearwing.
The Section's Annual Meeting was held January 19 at the Nelson Fine Arts Center, Arizona State University. The new award was established at the meeting.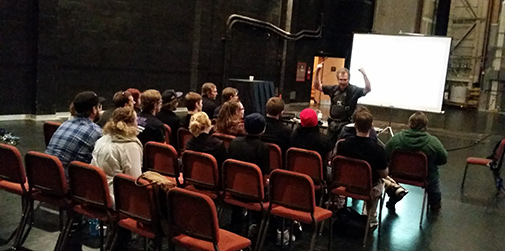 Southwest: Symposium a Success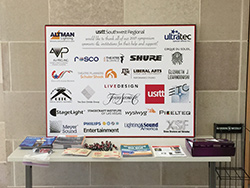 The Southwest Regional Section's Annual Symposium was a great success and included a highly successful Student Design Exhibit.
The event included the Section's business and board meetings.
Northern Boundary: Scholarships, Grant, Complimentary Conference Registrations Announced
All the members of the Northern Boundary Regional Section, National USITT, SECOA, and Norcostco/Stage Technology have united to help establish the Section's NBS Scholarships and Emerging Professional Grant possible.
Without the membership and corporate sponsorship, the group would not be able to offer the number of scholarships it does to help offset the expenditures of travelling to the Annual Conference & Stage Expo. The NBS Emerging Professional Grant will help support a Section member who has graduated and is pursuing a career in technical theater.
Becky Raines of St. Olaf College and Nick Mrozek, University of Minnesota-Duluth each received a SECOA Scholarship. The John Mullen Scholarship from Norcostco/Stage Technology went to Kathleen Martin, University of Minnesota-Duluth. Two Northern Boundary Regional Section Scholarships went to Margaret Caster, Hamline University, and Timothy Williams, Minnesota State University-Mankato. The NBS "Doughnut" Scholarship went to Joanna McLarnan, St. Olaf College.
Matthew Gilbertson received the inaugural NBS Emerging Professional Grant.
Genevieve Kafka, Hamline University, won the Northern Boundary Section scholarship to support of a student's attendance of the 2015 Prague Quadrennial.
"Cover the Walls" Design Exhibition Winners
At the NBS Fall Conference held at Anoka-Ramsey Community College in September, Ashley Wereley, Heather Olson, and Kathleen Martin were awarded complimentary registrations for the USITT 2015 Annual Conference & Stage Expo in Cincinnati. All three students exhibited design work in the "Cover the Walls" Design Exhibition that was part of the Fall Conference.