Conference & Stage Expo
2015 Stage Expo Smashed Records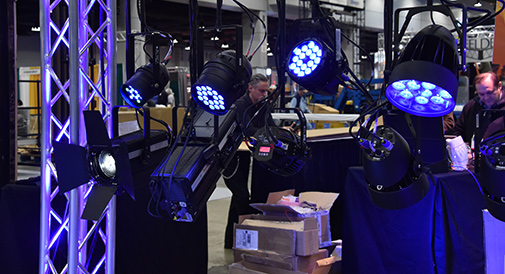 USITT succeeded in bringing a bigger, better, newer Stage Expo than ever to Cincinnati this year.
More than 280 exhibitors filled nearly 45,000 square feet of the show floor at the Duke Energy Convention Center. Over 60 of them were new or returning after years away.
The result was a Stage Expo packed with exciting new technologies, avenues, and opportunities for learning, networking, and product resourcing.
The 2015 exhibitor list is a "Who's Who" in entertainment technology:
A.C. Lighting Inc.
A.C.T Lighting, Inc.
Acceptd
Alcons Audio
Altman Lighting, Inc.
American Harlequin Corporation
American Society of Theatre Consultants
Anchor Audio
Apollo Design Technology, Inc.
Architectus Robotica
Arts University at Bournemouth
Astera-LEDS.com
Automatic Devices Company
B Street Theatre
Baby Lock
Backdrops Beautiful
Backdrops Fantastic
Bad Dog Tools
Barbizon Lighting Company
Batts Audio, Video & Lighting, Inc
Beck Studios, Inc.
Behind the Scenes
BellaTEX Stage Curtains
Ben Nye Makeup
BERNINA
BMI Supply
Boston University
Broadway Green Alliance
C.B.I. Cables
California Institute of the Arts

California State University Fullerton Theatre & Dance Department
Carnegie Mellon University
Carnival Cruise Lines
Celebrity Cruises
ChamSys USA
CHAUVET® Professional
Chicago Canvas & Supply
Chicago Shakespeare Theater
Chicago Spotlight
Church Production Magazine
Cirque du Soleil
City Theatrical, Inc.
Clark Transfer, Inc.
Clear-Com Communication Systems
Clearwing Productions
Cobalt Studios
Columbus McKinnon Corp.
coolux International
Costume Gallery-Newport, LLC
Costume Inventory Resources
Creative Handbook
Creative Stage Lighting Co.
d&b audiotechnik
Dataton
Dazian
Designer Magazine
DesignLab
Disney Parks Creative Entertainment
DPA Microphones Inc.
Dragon & Phoenix Software
DTHG
Eartec Co.
Educational Theatre Association
Elation Professional
Electronic Theatre Controls (ETC)
EmptySpace Technology
Entertainment Structures Group
Enttec Americas
ESL Power Systems, Inc.
eZHoist
FAIR
Feld Entertainment
Figure 53
Florida State University
Focal Press
Foy Inventerprises, Inc.
Frends Beauty Supply
Future Light
GaffGun
GALA Systems, Inc.
Gantom Lighting & Controls
Gerriets International
Gleason Reel Corp.
Glimmerglass Festival
GLP German Lighting Products
Graftobian Make-Up Company
Griffin 3D
Grosh Backdrops and Drapery
Group One Limited / DiGiCo
Guildhall School of Music & Drama
H & H Specialties Inc.
Hall Associates Flying Effects
IALD

IATSE Local 1
Illinois State University
InLight Gobos
InterAmerica Stage, Inc.
International Alliance of Theatrical Stage Employees
Irwin Seating Company
iWeiss Theatrical Solutions
J.R. Clancy, Inc.
JLG Industries, Inc.
Karamu House
KC/ACTF
Kent State University
Kenwood USA
Kryolan Corporation
Kupo Industrial Corp
LDR
Lectrosonics
LEE Filters
Lex Products Corp.
Lightbulbscaffold.com
Limelight Productions, Inc.
Live Design Magazine/LDI Show
Live! Technologies
Loos & Co
Loud and Clear Inc.
Louisiana State University
Lycian Stage Lighting
MainStage Theatrical Supply, Inc.
Malabar Limited
MDG Fog Generators
Mega Systems Inc
Mehron, Inc.
Meyer Sound Laboratories, Inc.
MG Tour Company
Millikin University
Minnesota State University Mankota
ModTruss Inc
Montclair State University
Morpheus Lights
Music Theatre Wichita
National Costumers Association
Nebraska Theatre Caravan
Necessity's Inventions
Nemetschek Vectorworks, Inc.
NETworks Presentations
Nicopress Products
Norcostco, Inc.
Northern Illinois University
Nova Lume
Ogunquit Playhouse
Ohio University School of Theater
OISTAT/World Scenography Books
Open Tickets
Opera America
OSF Costume Rentals
OSRAM SYLVANIA
Otterbien University
Pathway Connectivity
PCPA
Penn State University
Period Corsets
Pixorea
PLASA
plotLight by Act 85
Point Source Audio
Point Wright Entertainment Rigging
Polyonyx+

PreSonus Audio
PRG
Princess Cruises
Propared
Pulp Art Surfaces
Purchase College
Purdue Theatre
Rational Acoustics, LLC
RC4 Wireless/Soundsculpture Inc.
RCF USA
Richard B. Fisher Center at Bard College
RLED Lighting
Robert Juliat
Rosco Laboratories, Inc.
Rose Brand Theatrical Fabrics, Fabrications & Supplies
Royal Caribbean Cruise Lines
Royal Conservatoire of Scotland
Royal Welsh College of Music & Drama
Rutgers University Theater
Saint Mary's College
San Diego State University
San Franciso State University
Sapsis Rigging Entertainment Services, Inc.
SCAD: The University for Creative Careers
Sculptural Arts Coating, Inc.
SeaWorld Parks & Entertainment
SECOA
Serapid, Inc.
Shakespeare Theatre Company
ShopBot
Show Distribution
Show Sage LLC
Shure Incorporated
Sight & Sound Theatres
Smooth-On, Inc.
Society of Properties Artisan Managers
Sound Associates
Southeastern Theatre Conference
Southern Illinois University
SSRC
Stage Directions/PLSN/FOH
Stage Manager's Association
Stagecraft Institute of Las Vegas
Stagejunk.com
StageLight, Inc.
StageMaker
StageRight Corporation
StageSpot
StageWrite Software
Staging Concepts
Steeldeck NY Inc.
Steppenwolf
Strong Lighting
Studio Gear
Syracuse Scenery & Stage Lighting Co., Inc.
TAF USA
TAIT
TC Furlong Inc.
Techni-Lux
Temple University
Texas A&M University-Commerce
Texas State University
Texas Tech University
The George Washington University
The Light Source
The Ohio State University Department of Theatre
The Santa Fe Opera
The Shakespeare Theatre of NJ
The University of Alabama
The University of Georgia
The University of Memphis
The University of North Carolina Greensboro
The University of Texas at Austin
Theatre Historical Society of America
Theatre World Backdrops
Thern Stage Equipment
Tiffin Scenic Studios, Inc.
TMB
Tomcat USA, Inc.
Tru Roll
Tulane University
Turning Star Inc.
UC San Diego Deprtment of Theatre & Dance
Ultratec Special Effects
Union Connector Co., Inc.
United Scenic Artists Local USA 829
University of Arkansas
University of Cincinnati
University of Connecticut
University of Hawai'i
University of Illinois
University of Michigan - Flint
University of Nevada - Las Vegas
University of North Carolina Chapel Hill
University of North Carolina School of the Arts
University of South Carolina
University of South Dakota
University of Virginia
University of Wisconsin-Madison
US Rigging
USHIO
Vincent Lighting
Virginia Tech
Visit Salt Lake
Viterbo University
Wayne State University
Wenger Corporation
West Virginia University
Western Illinois University
Wigfits, Inc.
Will-Burt Company, The
Williamstown Theatre Festival
Wonderflex World
XS Lighting & Sound
Yale University
Yamaha Commercial Audio
YeagerLabs
ZFX, Inc.- Flying Effects