News From
Sustaining Members
Sapsis Rigging: Phoenix Fly in St. John's Cathedral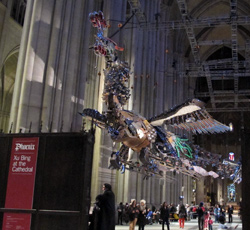 Sapsis Rigging provided rigging design and installation services as well as all of the equipment to fly two sculptures in the Cathedral of St. John the Divine in New York City. The sculptures, designed and crafted by Chinese artist Xu Bing , represent a male and female Phoenix flying through the nave of the cathedral.
The two phoenix, which weigh 13,000 pounds each, were suspended from a truss grid which was in turn suspended from 38 chain hoists attached to the building. The entire installation took just under two weeks to complete.
A time lapse video shows the work.
Pathway Connectivity: Chicago-area Theatre Lights Up with New Console
Stage 212, a community theater in LaSalle, Illinois, has selected the Cognito lighting console from Pathway Connectivity as part of a plan to upgrade its old, outdated lighting board with a programmable system aimed at improving theatrical lighting flexibility.
The Cognito lighting console is ideal for community theaters such as Stage 212, which have switched over entirely to color-changing LED lights, and will perform equally well in venues that own a mix of traditional dimmers, moving lights, and LED fixtures. The console is networkable and features a streamlined interface that guides users through the programming process.
For more information visit www.pathwayconnect.com.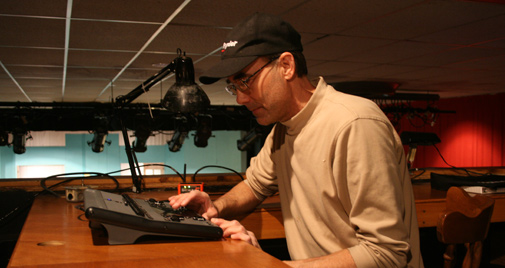 RC4 Wireless: Introduces Next-Generation Dimmers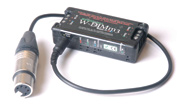 RC4 Wireless, maker of award-winning low-voltage dimmers, introduces next-generation W-DIM4 and W-DIMm3 wireless dimmers for use with Wireless Solution W-DMX systems. 
The W-DIM4 is a four-channel wireless DMX receiver with four dimmers integrated into one small device.  The W-DIMm3 is a wireless DMX receiver and three dimmers in a miniature device.
TMB: Hit Milestone of 1,000th System Sold
TMB and AC Power Distribution have celebrated the delivery of the 1,000th ProPower Rack Panel Distribution (RPD) system.  The latest ProPower RPD rack was handed over at a special ceremony at TMB's global headquarters earlier this month.
Custom-configurable ProPower RPD power distribution features a comprehensive range of cULus Listed panels, with virtually every type of connector, voltage range, or special purpose distro device used in the North American live event and entertainment industries.  Over 150 panels are available, with more being added regularly. 
ProPower is a registered trademark of TMB, who is exclusive distributor of ProPower RPD, ProPower DP, ProPower CE RMD, and ProPower CE HPS.  Find out more about the entire ProPower range at www.tmb.com/products/propower.  Learn more about AC Power at www.acpowerdistribution.com, and TMB at www.tmb.com.
IATSE: Local Wins Decision for Cinema Brossard
IATSE Local 262 has come out ahead in the local's recent dispute over bargaining rights at Cinema Brossard in Montreal, Quebec, Canada. The local already held bargaining rights for employees of the cinema. The dispute centered on Cineplex refusing to apply the existing agreement to four VIP theatres it added to the existing cinema.
The Quebec Labour Board issued its decision in favour of Local 262 on February 7.  The 65 employees working at the VIP cinema are now covered by the agreement and will soon become members of the union.
Stagecraft Institute of Las Vegas: Lucky Eights Portend Exciting Summer Session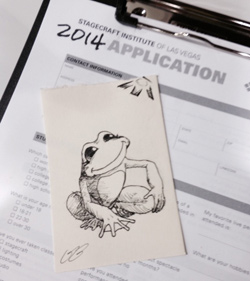 Stagecraft Institute of Las Vegas is gearing up for one of its most exciting sessions in 2014.
It is SILV's eighth year with eight weeks of classes. The number eight is a significant number for luck and prosperity in Chinese culture, so all those eights are lucky for SILV.
To share the experiend of SILV2014, go to stagecraftinstitute.com/admissions.
Nemetschek Vectorworks, Inc.: New Edition of Software Training Guide Available
Nemetschek Vectorworks, Inc. has updated a training guide for users of Vectorworks software, Vectorworks Essentials Tutorial Manual, Sixth Edition.
This tutorial, written by expert Vectorworks trainer Jonathan Pickup, is a must-have workbook for anyone new to the software. The book includes an introduction to the Vectorworks interface; a section to familiarize readers with tools and commands; an introduction to 3D modeling; tips on organizing information to create models, drawings, and reports; and a discussion about using worksheets. Notes and practice exercises throughout the tutorial and on an accompanying DVD provide additional guidance.
The book is  part of Nemetschek Vectorworks' self-paced training options. For more information and to purchase this tutorial, visit www.vectorworks.net/training/guides.php.
L-ACOUSTICS: Midwest-based SR Provider Accepts Delivery System
Fresh back from the 25th annual Pollstar Awards in Nashville, Tennessee where it was nominated for "Sound Company of the Year," Thunder Audio recently took delivery of its first L-ACOUSTICS system, the new K2.
Comprised of 36 K2 and six KARA variable curvature WST line source elements, eight K1-SB and 18 SB28 subs, six ARCS II constant curvature enclosures and 10 LA-RAK touring racks--each housing three LA8 amplified controllers--the sound reinforcement provider's recent purchase marks one of the very first K2 systems sold in the United States.