News From
Around the Institute
Students Receive Support for Conference
Winners of the 2014 H & H Student Conference Support are Justin Bennett, Michael Cochrane, Brandon Wheat, David Millard, Emily Smith, and Matthew  Wolski.
All students who have been USITT members for at least one year and are registered for the Annual Conference & Stage Expo by the very early deadline are eligible for a random drawing to receive the support, made possible by the generosity of Reid Neslage and H & H Specialites, Inc. of South El Monte, California.
Congratulations
Congratulations to Kate Harrow, a student at University of Southern California, who won the Nemetschek Vectorworks contest to attend the For Worth 2014 Annual Conference & Stage Expo.
This was the first year Vectorworks has provided Conference registration based on applications from students.
SUNY-Purchase Alumni Involved in Olympics Ceremony
Several alumni of Supporting Member SUNY-Purchase played active roles in designing the Sochi 2014 Winter Olympics' opening ceremony. Rob Bissinger '91 served as art director and Anita La Scala '05 as assistant art director for the three-hour extravaganza. Jason Courson '02, Evan Adamson '03, and Dan Sobel '03 worked on the design team.
The Purchase alumni worked under artistic director George Tsypin, winner of USITT's 2008 Golden Pen Award, before heading to Sochi to realize their vision. In addition, USITT member and Purchase Prof. Dan Hanessian '90 served as technical designer for NBC studios at the Olympics.
Symposion, Election Part of OISTAT Activities
Breda's Museum is planning a symposium -- Costume Preservation in Museum, Theatre, and Fashion -- in collaboration with the Costume Design Group of OISTAT.
The event will be held April 4 as part of a scheduled program with activities in Brussels and Antwerp, Belgium, and Breda, Netherlands.For more about speakers and programs, go to www.symposium-bredasmuseum.nl.
The OISTAT Technology Commission will hold a meeting and election for the position of chair April 10 to 13 in Shangai, China.
By Design Day 2014 – for giving, not forgetting
"We really can't tell you how much this saved our home and family."
"For everybody who contributes to Behind the Scenes, thank you. You helped save my life."
"I can't thank you all enough. Light Relief does life changing work, and my life has been changed by what you do."
Without the help of either Light Relief in the United Kingdom or Behind the Scenes in the United States and Canada, these people — and many more — would have been in severe financial difficulties as a result of illness or injury. 
A major fundraiser for both charities is By Design Day, being held on Thursday, April 24. Anyone can make a personal donation, hold a collection at work or, if a designer, give a day's royalties to one or both of these charities. Visit www.estafoundation.org/ByDesignDay for more information and to make a donation.
Lamb Appointed Band Master for CSMR Band.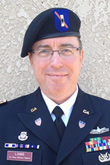 Point Source Audio announced that company President James Lamb has been tapped as the first commander of the newly-formed California State Military Reserve (CSMR) Band.  Mr. Lamb, a lifelong trumpeter, composer, and arranger, earned an appointment as a warrant officer in the California Military Reserve in August. In addition to playing trumpet and writing arrangements, he will help coordinate support for California's three National Guard Bands, based in Sacramento, Oxnard, and Los Alamitos.
The California National Guard Bands uphold a long tradition dating back 150 years of Guard bands providing music at military and civic events across the state. The bands perform a wide-ranging repertoire that requires high standards of musicianship. Qualified musicians who are interested in volunteering should contact Mr. Lamb at jlamb@point-sourceaudio.com.
After leaving the Navy in 1991, Mr. Lamb enjoyed a career in New York City as a professional trumpeter, music arranger, and conductor. He then transitioned into work in the audio industry, first for Apogee Soundand later for Digigram. In 2004, he founded Point Source Audio.
Allen Packs Last Template
After 26 years of packing templates and keeping track of inventory, debits and credits, Fred Allen is hanging it all up and retiring from Field Template. Mr. Allen was always recognizable at USITT Stage Expos with his trademark lime green shirt and jean jacket.
In the beginning, Mr. Allen explains, "I really just wanted a template to use with my drafting, the least favorite part of light design for me. A plastic template held the possibility of reducing that time significantly. Steve [Shelley, co-founder] had shown me a Field Template concept drawing one winter while he was touring with ABT. Once he had explained the concept, I was hooked. I had to have such a template."
However, Mr. Allen's enthusiasm was not appreciated by any of the template manufacturers at the time. Mr. Shelley was rejected at every turn and ended up partnering with Mr. Allen to find a factory to cut the template and develop a network of theater dealers to sell them. Field Template is the last one standing in the lighting template business, primarily due to the educational market and SoftSymbols, the most complete, accurate library of lighting symbols ever assembled.
Mr. Shelley will continue designing and selling the plastic Field Templates, along with upgrades to SoftSymbols. Mr. Allen will retain the custom template business and will launch a new web site for it.
For information about custom templates, contact Fred Allen, Fred Allen and Associates, 880 West 18th Street, San Pedro, CA 90731; 310- 832-4700 ; fax 310- 732-2247;  e-mail fred.allen@cox.net.  For information regarding the design and sale of Field Templates, contact, Steve Shelley, Field Template LLC, 714 Amsterdam Avenue #15, New York, NY 10025; 212-865-2969; fax 530-937-7426; e-mail shelley@fieldtemplate.com.