News & Notices
LINK to Grad School Success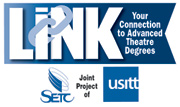 LINK, a new way to connect to advanced theatre degrees, has been launched by USITT and SETC.
LINK will bring together programs with graduate degrees and those considering options for additional education in one convenient, affordable location for interviews and information exchange. 
LINK will be held November 14 to 16 at the Atlanta Airport Hilton.  A special hotel rate has been negotiated, along with a discount on air travel.
Interviews and auditions will be held with performers, designers, technicians, and managers. The event is not all business.  It will include a social time to allow organizations and individuals to mingle and get to know each other outside of the interview format.
Both universities and potential grad students expressed great enthusiasm when the program was introduced at SETC's 2014 Convention in Mobile, Alabama in early March.
The low cost (only $40 for each student to register) and online application process were noted by students as both time and money-savers.  Educational institutions will be able to view portfolios and information about students before meeting them in Atlanta, and students can research schools in the same way.   
The collaborative effort led by David Grindle, USITT Executive Director, and Betsey Horth, SETC Executive Director, is a great fit for both organizations, providing a service which members can use quickly and easily. 
Schools are already signing up to participate. Those already committed for November include:
Electronic applications for students will open in August.
Visit www.usitt.org/link14 to see who else is interviewing, or to participate.