News & Notices
Fellows Provide Mentoring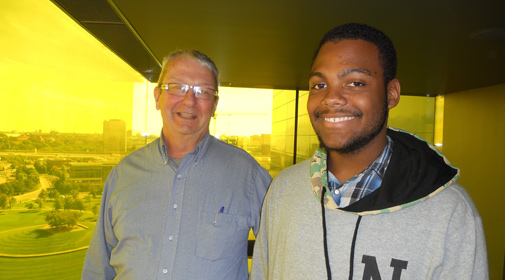 USITT completed its third round of Find a Fellow at the 2014 Annual Conference & Stage Expo in Fort Worth, Texas. Each winner spends a weekend with a Fellow the winner selects. The 2014 winners will be announced in May, but to build excitement, here is a report from a Fellow who participated in 2013 and the student winner.
It was a pleasure to be selected to mentor a student from USITT this past fall. Justin Tucker, currently a theatre major at Alabama State University in Montgomery, was interested in learning more about scenic painting and design. Although I just retired from the University of Minnesota, there are still many of my former students and collaborators working in the Twin Cities, so the task of matching Justin's needs with this rich arts community was easy and, for both of us, extremely enjoyable.
The trip started out a bit strained in no small part because of problems making the connecting flight on Delta from Montgomery to Atlanta.  Even though Justin was accommodated on a later flight, we missed the closing performance of A Brown Tale at Penumbra Theatre—a show I designed. Fortunately, I was able to send progress shots of the set and production images to him electronically.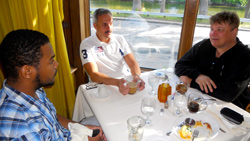 During his visit, we got a complete tour of the Guthrie Theater by Michael Hoover, scenic charge and designer for the recent production of Uncle Vanya.  Scott Latendresse, a freelance art director for theme parks and TV from Los Angeles, was in town visiting, so he joined us and was able to help Justin understand the nuances between various production media.  We were also able to schedule a visit to the off-site paint shop and a full tour of the nationally renowned Children's Theatre Company provided by the lead scenic artist, Mary Novodvorsky. It was great to see the various styles and visual needs required by the legion of designers that contribute their artistry to these two theatres.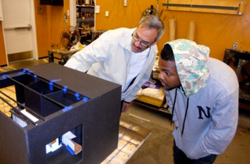 It was also quite wonderful to be able to share with Justin the Twin City Scenic, Great Western, and Holak Collections located in the Performing Arts Library of the University of Minnesota. The processing and digitizing of these seminal collections of sketches was supported in part by the Kook Endowment of USITT, and his amazement at being able to hold and examine his historic legacy, some of the sketches were over 100 years old, was a joy to see. For a more complete examination visit here.
We did get to visit the scenic shop of Penumbra Theatre to see the current projects both for that theatre and other regional performance companies. While in the shop, Justin got to spend time with Angilique Powers, charge artist and teacher, and Jason Allyn-Schwerin, their versatile technical director. During Justin's last evening, we went to see the production of Uncle Vanya so he could see how lighting changed and enhanced the setting that he was able to examine close up the previous day.
For both of us, it was a chance to get to know each other and to share the ambitions of a future generation with the seasoned experiences and unique opportunities that have been a part of my professional and academic career.