News & Notices
Join Elite Training at Cirque du Soleil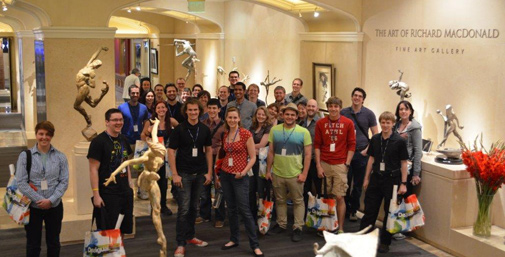 Even during a busy Conference, USITT and its Elite Training sponsors – Cirque du Soleil, Stage Technologies, Meyer Sound, Coolux, Silver State Wire Rope, Nicopress, and CM Entertainment Technology – have been planning the next training weekend in Las Vegas May 29 to 31.
Elite Training 2014 adds a new discipline – stage management – to the fields of rigging, automation, projection, and sound. Up to eight student and early career members in each will get free, hands-on training from industry leaders at the Cirque du Soleil Training Center in Vegas.
The deadline to apply is April 18. Apply here.
Past trainees describe Elite Training as inspiring, invaluable, and even life-changing. One of last year's participants, sound designer Shannon O'Neill of Illinois State University, praised the program in her blog, Sounds Like Shannon.
"I was accepted into the sound program and got to train on Meyer Sound's D'Mitri sound playback system and to shadow at Love, Cirque du Soleil's Beatles show," she wrote. "It was great! We got to hang back and run microphones for a while, and then we got to go inside the sound booth and talk to one of the playback engineers. There was so much sound equipment, and so many speakers that I could hardly believe myself."
Elite Training offers intensive training from top instructors in each field on their companies' latest equipment, plus backstage tours and job shadowing on Cirque du Soleil shows including KÁ, Mystère, and Criss Angel BeLIEve. One of last year's automation students ended up getting a job on Michael Jackson One, said Stage Tech vice president for business development Gemma Guy.
"We have a new state-of-the-art training facility in Vegas that we open up to the Elite Training students in automation," she said. "I tell kids to go into automation because it's not that big in America yet, but it's going to take off."
Elite Training tuition is free to those accepted into the program. Trainees must arrange their own travel, meals, and housing. A block of discount hotel rooms will be available near the training center, and several of the sponsors do provide lunch. For more information, go to www.usitt.org/elite.