News From
Sustaining Members
Creative Conners, Inc.: Introduces Virtual Simulator
Creative Conners, Inc. has introduced the Spikemark 3 Simulator and is encouraging everyone to get the free download, and then experiment with automation on a fully-functional virtual stage.
To see what happens when designs are put in motion, download the simulator here or at www.creativeconners.com.
RC4 Wireless/Soundsculpture, Inc.: Opens Branch Office in Missouri
RC4 Wireless/Soundsculpture, Inc., based in Raleigh, North Carolina, has opened a branch office in Raytown, Missouri.
The new RC4 Wireless/Soundsculpture Incorporated office, headed by Sean Dane, sales director/application specialist is at 6720 Appleton, Raytown, MO, 64133; sdane@theatrewireless.com; 816-510-3812
L-ACOUSTICS: The Cowboy Rides Away with Sound System
After 40 studio albums and an unprecedented 60 top country music singles, George Strait, the "King of Country," has wrapped up the first half of his farewell tour, dubbed The Cowboy Rides Away. With the second leg of dates set to take place in early 2014, the final in-the-round performance of his 2013 trek took place June 1 at San Antonio's Alamodome in front of a record-breaking, sold-out crowd of more than 73,000 fans.
Dallas-based Onstage Systems furnished the artist's standard L-ACOUSTICS V-DOSC and KUDO package for most of this year's tour stops. However, given the sheer size of the Alamodome concert in Mr. Strait's hometown, the company chose to deploy its full inventory of K1 enclosures, which it augmented with additional cabinets from fellow rental network provider Clearwing Audio for an impressive total of 120 K1.
For his final The Cowboy Rides Away stop at the Alamodome, which sold out within an astounding six minutes of going on sale, the artist performed a two-hour concert following sets from the tour's special guests, Martina McBride and Miranda Lambert. For more details on the 2013 leg, which kicked off back in mid-January, visit www.georgestrait.com.
Onstage Systems can also be found on the Web at www.onstagesystems.com.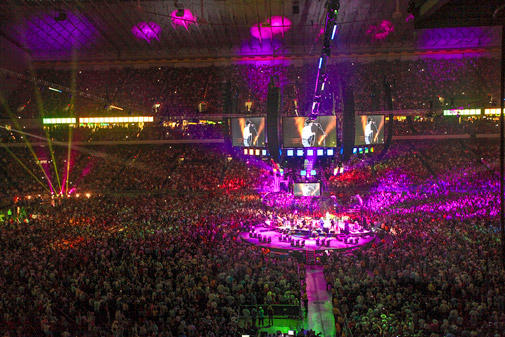 Alcons Audio: Loudspeaker Systems a Hit at InfoComm 2013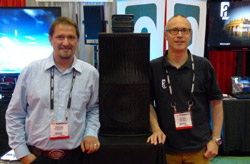 2013 proved to be another highly successful presence for Alcons Audio at the InfoComm trade show, with audio professionals from across the industry able to see and hear the breadth of the company's portfolio of pro-ribbon loudspeaker systems
Major highlights of this year's expo included the North American debut of two new sound system solutions, the QR24 line source column and the RR12 constant curvature point-source array module. In addition, Alcons hosted off-site demonstrations of the LR16 high-output compact line array module.
For more information visit www.alconsaudio.com and www.proribbontechnology.com.
GLP: Seattle Mall Gets Innovative LED Lighting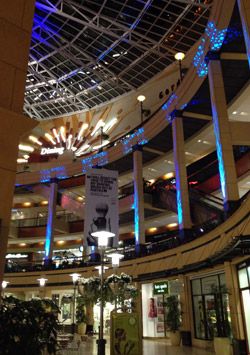 Enhancing the overall shopping mall experience for visitors — by creating a unique atmosphere with low maintenance, color-changing fixtures, which can be activated for selective events — is a challenge facing mall management companies.
The company responsible for the Pacific Place shopping center in Seattle contacted GLP authorized dealer PNTA with that in mind.
With the Christmas season approaching and the annual "Snow Show" looming, something innovative was needed to grab the attention of passers-by and give the 15-year-old retail center a fresh approach. Having worked on other projects at the site, the lighting specialists recommended seven of GLP's pioneering LED fixture, the impression Spot One, to be installed in each of the mall's dominant columns.
IATSE: Elected to National Labor College Board of Trustees
National Labor College announced the election of Mathew D. Loeb, International President of International Alliance of Theatrical Stage Employees (IATSE), to its Board of Trustees.
Since he was elected president in 2008, Mr. Loeb has strongly supported providing educational opportunities for IATSE leadership, local unions, and members. The 2014 IATSE Convention theme stresses "Education" as one of the pillars of success for the entertainment union.
Mr. Loeb launched IATSE's Labor Education Assistance Program (LEAP), through which he established a relationship with National Labor College.
Stagecraft Institute of Las Vegas: Institute Widens Offerings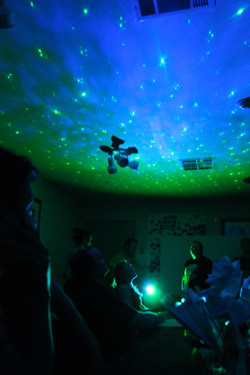 The Stagecraft Institute of Las Vegas class of 2013 had more classes than it could keep up with, so some weeks were split in two, totaling out to 11 classes in eight weeks. Housing over 70 students this summer from around the world from Mexico City to Israel to Pakistan, Stagecraft Institute had its share of broad collaborations.
SILV has now taught over 600 students from 44 states and 29 different countries. The first offering of the SILV Seal of Qualification covering the integrated steps, content and procedures from the industry, and the two-week SILV Movers and Digital Media class will be announced by August 2.
Watch stagecraftinstitute.com for the 2014 offerings. SILV staff members will be at PlasaFocus Austin and Nashville .