News & Notices
Student Design Team Chosen for PQ 2015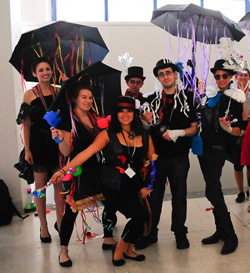 After a long and "impressively challenging" selection process, USITT has chosen four young theatrical designers to collaborate on the American student exhibit to the 2015 Prague Quadrennial of Performance Design and Space in Prague, Czech Republic.
More than two dozen student and young professionals applied for spots on the team, which will design and curate an exhibit of the best American student theatrical design to be displayed at PQ 2015.
The PQ, the world's largest performance design event, is often compared to the Olympics because it's held every four years and awards gold medals to the best theatrical designs from more than 60 countries. USITT spearheads the U.S. national, student, and architectural exhibits to the PQ.
Markéta Fantová, USITT Vice-President for International Activities, said USITT received three times as many applicants to the 2015 student team as it did for PQ 2011 thanks to a joint recruiting effort with the Kennedy Center American College Theater Festival Awards. Former USITT board member Rafael Jaen was USITT's liason to the KCACTF, which holds annual regional and national competitions seeking the best college talent in performance design.
Three of the four student team members have won KCACTF regional awards: costume and scene designer Tyler Kinney of Emerson University in Boston, scenic designer Joe Klug of Kansas State University, and lighting designer John Mitchell of Dixie State University in Utah. The fourth, Jenna Moran, is an accomplished sound designer working in Chicago while studying at DePaul University's Theatre School.
Mr. Jaen said he was "ecstatic" at reaching out to KCACTF winners because they had already gone through a rigorous vetting process. "We had a great success getting the word out" through KCACTF and USITT, he said.
Faculty mentors Tom Burch, assistant professor of scenic design at Ithaca College, and Meghan Raham, assistant professor of set and costume design at American University, interviewed all 26 applicants via phone and Skype. They said they were "blown away" by the quality of the candidates.
"The final decision-making process was extremely difficult," Mr. Burch said. "Ultimately, we assembled an amazing team of students and early career professionals who bring unique and diverse points of view and artistry to the table, and who represent not only the different design disciplines, but also the broad geography and sensibility of a large swatch of our very large nation."
The teammates will now collaborate on a "two year-plus volunteer project" to display the best in American theatre design by college students, he added. They will communicate electronically most of that time and meet in person at the 2014 Annual Conference & Stage Expo in Fort Worth in March.
Ms. Raham said they are working on the theme "Transcend," seeking to show how designers transcend a supporting role and function as artists and storytellers. The group has a facebook page and urges everyone to visit and "like" them.