News & Notices
Lori Furcinito Joins USITT Office as Finance Assistant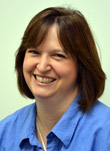 Lori Furcinito is the newest member of the USITT National Office staff. As Finance Assistant, she reports to USITT Director of Finance & Human Resources Carol Carrigan, keeping track of day-to-day accounting entries and monthly reconciliations.
She, her husband, Mike, and their son, Alex, have a home in Baldwinsville, New York, "a giant leap of about five miles" from where she grew up north of Syracuse. Mike's mother, Martha Furcinito, lives with them, along with their best friend, an 8-year-old Bichon Frisé named Champ.
Lori is a graduate of the State University of New York at Oswego with a B.S. in accounting. She got a job right out of school in the sales audit department of Ames Department Stores. Two years later, she landed a job as accounting supervisor at Home Aides of Central New York.
In 1992, she got married and continued to work until "the light of my life, the apple of my eye" -- Alex -- was born in 1996. She became a full-time mom for 10 years, "until he started to get annoying," she joked. She went back to work as an administrative assistant for M/E Engineering for six years until it "downsized" 18 people last year. She also worked part-time for The Events Company, an event-planning firm that introduced her to "lights, staging, and set-up" in a corporate setting.
Carol Carrigan said "Lori will provide USITT substantial accounting support in the areas of cash receipts, accounts payable, and monthly reconciliations. She will also manage the many details associated with Conference catered events."
Besides her work life, she cared for her mother, who also lived with the family before her death, and helped home-school her son. In her spare time, she enjoys reading, cooking, and movies. (She recommends Iron Man 3 with Robert Downey Jr.)
She says she is thrilled to join USITT, with its ranks of friendly, helpful people and, especially, opportunities to travel. Part of her duties will include overseeing catering planning for the 2014 Annual Conference & Stage Expo in Fort Worth. "We don't travel a lot as a family, so I am really looking forward to that!" she says.