News & Notices
Announcements
Institute Opportunity Alerts
USITT presents more one-day training sessions, only $60 for members and $30 for student/early career members. Non-member rates are available.
Sign up soon:
Deadlines for USITT Awards are also quickly approaching:
The nominations deadline for USITT's 2014 Rising Star Award is September 1. This award, established by LDI/LiveDesign, recognizes a young professional for artistic achievement in scenic, lighting, sound, and/or projection design.
Nominations for USITT Architecture Awards also close September 1. These recognize contemporary performance spaces around the world. To nominate a recently built or renovated venue, click here.
USITT's Young Designers & Technicians Awards open September 1! A total of 11 awards recognize student/early career achievers in sound, costume, scene, make-up, and lighting design, stage management, and more. To nominate someone for YD&T, click here.
Spotlight on Drops in Fort Worth
A new competition for painted or printed drops will be held as part of the 2014 USITT Annual Conference & Stage Expo in Fort Worth.

Scenic artists will be able to enter work in one of four categories: professional; educator; student; and digital or printed drops. A team of adjudicators will select those drops to be displayed based on the three images submitted for each drop. The adjudicators will also provide feedback on the submitted work.

After selection, USITT will arrange to have the drops shipped to and from Fort Worth where the work will be displayed on a Wall of Drops, similar to the wall created of the works from Cobalt Studios which was a great success at the 2013 event in Milwaukee.

Details on the submittal process will be available in the September issue of Sightlines and at www.usitt.org.
OISTAT Announces Events
The OISTAT Performance Design, Research, and Education Commissions are working together to participate in an August 10 to 15, 2014 conference in Brazil with a leading theme, "E-Scapes: The exploration of escaping traditional boundaries of performance and its design." Check the OISTAT website for more information.
In 2014, the OISTAT Scenography Commission's Costume Design Group meeting will be held January 15 to 18 in Antwerp (Belgium), Breda (Netherlands) and Brussels (Belgium). The transnational costume conference and trip is now calling for presentations. Check here for more information.
Announce ESTA Holiday Cards
The ESTA Foundation 2013 Behind the Scenes Holiday Cards have been created by an impressive array of all-star designers and young talent - Kenneth Foy, Anna Louizos, Chris Nyfield, Melissa Pfeiffer, Court Watson, and Greg Williams.
Three card ordering options are offered: personalized cards with a company logo and custom message, card packs of 10 with a standard greeting, and electronic versions for delivery by e-mail. Orders will be taken until September 23 to arrive by mid-November. All proceeds benefit Behind the Scenes a fund to aide ill or injured entertainment technology professionals. View and order cards at www.estafoundation.org/holidaycards. For more information, contact Lori Rubinstein at 212-244-1421 or holidaycard@estafoundation.org.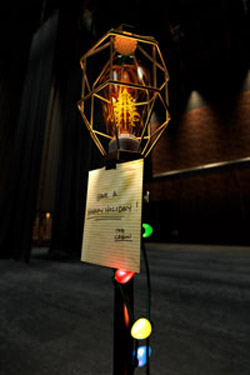 Mr. Foy's designs have been seen around the world in theatre, opera, dance, circus and themed environments. He has been a member of the Metropolitan Opera scenic department for 25 years.
Ms. Louizos received Tony nominations for The Mystery of Edwin Drood, In the Heights, and High Fidelity. Other Broadway credits include Avenue Q, White Christmas, and the currently running Cinderella.
Mr. Nyfield is the design director/partner at Silent House Productions, the Los Angeles based company responsible for the design and direction of successful concert tours including Taylor Swift - Speak Now and P!NK - The Truth About Love.
Ms. Pfeiffer is a junior at the Mount Vernon Senior High School Fine Arts Academy (Mount Vernon, Indiana). She has participated in many art competitions and shows at both regional and national levels.
Mr. Watson is a set and costume designer whose work has been seen around the world including at Glimmerglass Festival and Deutschestheater in Munich, Busch Gardens and SeaWorld.
Mr. Williams of Positive Contrast is a freelance photographer whose work has been featured in numerous magazines, catalogs, and websites, as well as private collections. He is a co-founder of the Long Reach Long Riders.
For more information about Behind the Scenes, to donate, or to apply for a grant, visit www.estafoundation.org/bts.htm.
Photometric Standard Now in Public Review
A draft standard that would change how the output of LED luminaries is measured is now posted for public review. The proposed new standard, BSR E1.48 - 201x, A Recommended Luminous Efficiency Function for Stage and Studio Luminaire Photometry, specifies a luminous efficiency function V(lambda) based on recent human eye response research. Most light meters use the 89-year-old CIE 1924 V(lambda) function which significantly under-reports the output of RGB LED luminaires and any other sources that put out significant energy in the extreme ends of the spectrum.
The review runs through September 2. For more information, contact: Karl G. Ruling, Technical Standards Manager, PLASA, 630 Ninth Avenue, Suite 609, New York, NY 10036 or karl.ruling@plasa.org.
Downloads of Free Standards Top 10,000
More than 10,000 standards have been downloaded since PLASA and ProSight Specialty Insurance announced their partnership to make PLASA's American National Standards available to the industry free just over six weeks ago.
Among the most popular standards are ANSI E1.2 - Design, Manufacture, and Use of Aluminum Trusses and Towers; ANSI E1.4 - Manual Counterweight Rigging Systems; ANSI E1.1 - Construction and Use of Wire Rope Ladders; and ANSI E1.6-1 - Powered Hoist Systems.
ProSight, PLASA, and all the volunteers who write the technical standards are committed to making sure everyone who attends or works on an entertainment event, from a live show to a film shoot, goes home safely at the end of the day. Technical standards protect lives, prevent accidents, save money, solve problems, and encourage creativity. The partnership between PLASA and ProSight elevates safety protocol by making PLASA's technical standards available to anyone to download, free of charge. Additionally, companies who employ ETCP Certified Technicians receive special pricing consideration from ProSight. Visit plasa.prosightspecialty.com to get started.