Commissions
Costume Ideas Abound in Milwaukee
The temperature in Milwaukee proved to be quite cold during the USITT Annual Conference & Stage Expo this March; however, the costume sessions were sizzling.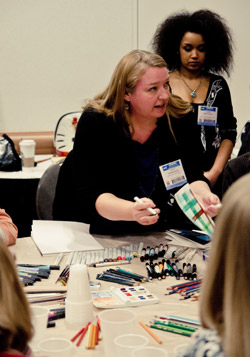 The costume sessions started with A Pound of Flesh, a wonderful workshop detailing the creation of realistic fat padding for any theatrical circumstance. The presenters covered how to approach small padding, large padding, and quick change padding.
On Wednesday, opening day, a hands-on design tips and tricks session for costume rendering provided much information. This year's session focused on various types of color medium. Techniques ranged from collaging tricks to Prisma color markers tips. This hands-on session was followed by a session presented by Martha Cooper detailing the costumes of Hollywood legend Katharine Hepburn.
First thing Thursday morning, Costume Design & Technology Commission members were able to attend Wardrobe Work on Broadway for those interested in pursuing Broadway work behind the scenes. This was followed by the ever popular Poster Session. In this session, Commission members shared innovative costume techniques with all conference attendees. The Poster Session was followed by an informative session dealing with quick change tips and tricks. Members learned ways to deal with challenging quick-change moments.
The last session Thursday was a hands-on tech workshop entitled Patterning Palooza. Thirteen Costume Design & Technology Commission members shared their patterning expertise and offered many creative patterning solutions. Friday morning, members interested in corsetry had the opportunity to attend a session concerning faux corsetry presented by Stacey Galloway. Next up was a hands-on session presented by members specializing in make-up and hair. Roadmaps, Research, and Rendering was packed with inspiring ideas.
The remainder of the afternoon and evening was set aside to celebrate the amazing design work of world renowned costume and scenic designer Desmond Heeley. Mr. Heeley was presented with the USITT Distinguished Achievement Award in Scenery and Costume.
Saturday morning opened with a session demonstrating how to create period hats from "unwanted" hat donations. This informative session was followed by a recently added annual event giving students a chance to share their innovative ideas with the Costume Commission and its members. The last session Saturday was presented by Laurie Kurutz and detailed the fine points of men's suit alterations.
From beginning to end, this year's Conference was packed with wonderful, innovative, and inspiring sessions.