Conference & Stage Expo
More Ways to Reach the Industry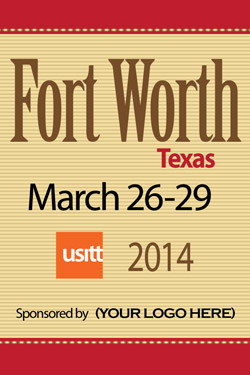 In any event, marketing is the ultimate goal. Whether an exhibiting company is showcasing its newest innovation or recruiting students or employees to join their company/institution, the objective is to create awareness in the industry. Manufacturers spend thousands of dollars to be at the Stage Expo in order to build that relationship with the more than 5,000 people attending.
Along those lines, USITT offers sponsorship opportunities. Sponsorships are generated to create additional lines of communication between the exhibitors and the audience interested in their services. Each sponsorship is carefully reviewed to be sure it creates effective forms of communication and to make sure the value is well balanced. USITT offers the highest value of communication for the most cost effective investment of any industry event. As the association for the theatre and entertainment industries, it's vitally important to make sure the value to organizational members is greater than they would find anywhere else.
The USITT sponsorship opportunities combine what are typically sold a la carte to create large packages of recognition through Stage Expo. For example, the Registration Sponsorship (valued at $7,500) combines an on-line presence, e-mail communications as well on-site recognition. Typically each portion of that would be valued at over $7,500 individually; but it is combined to create a strong, single voice of support for the USITT Conference & Stage Expo.
Another high value opportunity is the new USITT Mobile App sponsorship. Last year more than 2,600 people downloaded the application. Those people opened their app more than 44,000 times to look at the exhibitor list and conference sessions they were interested in. As a sponsor, that's a lot of recognition! The 2014 mobile app is scheduled to be available the first week of August and will be automatically updated to the 2,600 people who have already downloaded the 2013 version, instantly creating awareness.
There are other areas at the event where companies can place ads, or sponsor areas that create a constructive and comfortable experience for the attendees.
The Institute's goal as the industry voice is to connect those people looking for innovations and solutions with those exhibitors who possess those products and knowledge.
For information regarding sponsorship opportunities, contact Ron Procopio at 800-938-7488 x 107 or click www.usitt.org/sponsorship_opportunities for a full listing of current offerings.