Conference & Stage Expo
New Exhibitors at Stage Expo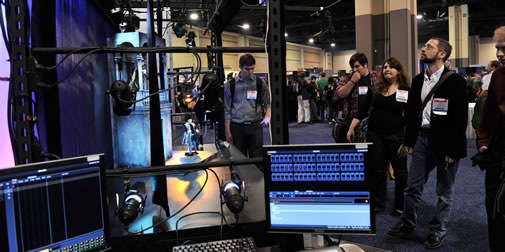 USITT's 52nd Annual Conference & Stage Expo will be held March 28 to 31, at the Long Beach Convention and Entertainment Center in beautiful Long Beach, California.  Stage Expo will be held on Thursday and Friday from 11 a.m. to 5:30 p.m., and on Saturday from 9:30 a.m. to 2 p.m.  Plan now to allocate plenty of time to see all of Stage Expo, the annual showcase of businesses, products, services, and educational opportunities for the performing arts and entertainment industry.
Stage Expo will fill exhibit halls A and B located on the lower level of the LBCC.  In addition to the booths and tables, Stage Expo 2012 will feature the USITT/USA PQ 2011 National Exhibit, From the Edge; the student exhibit, Emerge; and the architecture design exhibit.  Other special exhibits include Design Expo 2012, the Endowment Art Auction, and several Commission-sponsored and Regional exhibits.  There will also be eight Cyber Lounges so attendees can check e-mail and surf the web, as well as the USITT Booth & Boutique, where conference attendees can learn more about the Institute, purchase logo items, or attend book signings.
For more information about Stage Expo 2012 exhibitors, visit the Stage Expo Web Page to see the Stage Expo layout and a current list of exhibitors. Click on a highlighted booth to find contact information and a brief description for each exhibitor. Links are provided to exhibitors' websites to learn more about their products and services prior to the show.
Newly added exhibitors include Alcons Audio USA, Altman Lighting, Automation FX, California State University-Fullerton, Eartec, EmptySpace Technology, Entertainment Lighting Services, ESL Power Systems, Full Sail University, Nicopress Products, Pathway Connectivity, Philips Strand Lighting, PCPA Theaterfest, and The Shakespeare Theatre of New Jersey.
A limited number of booths, commercial tables for small companies meeting criteria, and non-commercial tables for colleges, universities, and other non-profit organizations are still available.  Any companies or organizations who are not listed as exhibitor but who would be a good addition to Stage Expo 2012 in Long Beach, can be suggested in an e-mail message with contact information to hpwillard@aol.com.