News From
Regional Sections
Southwest: Plan Winter Symposium
The Southwest Regional Section will hold its Winter Symposium January 14 to 15 in Stillwater, Oklahoma. It will be an intense weekend of hands-on workshops, student design and technical competition ($13,600 worth of prizes were awarded last year), mentoring, and communing with fellow theatre artists.  Check the website for weekly updates and a copy of this year's flyer, student design/tech competition rules, and  preliminary workshop schedule.
Registration is $35 for the weekend plus $20 membership for individuals and $5 for students. Entry fee for the design and technical competition is $10
Members of the Northern Boundary and other nearby Regional sections are being invited to the Southwest Winter Symposium.
Click here for more information.
California: Fifth Year for Annual Event
The California Regional Section presents the Fifth Annual Theatre Design and Production Career Fair Expo and Student Design Exhibit and Competition Saturday, January 21. Members of the USITT California Section (and those from neighboring Sections) are encouraged to save the date. The event is scheduled from 10 a.m. to 3:30 p.m. on the campus of Pomona College in Claremont, California.
Faculty and other theatre professionals, along with students, are welcome to attend at no charge. Potential employers and representatives from graduate and undergraduate programs are invited to participate in the job and career fair. Jeff Allen of PCPA (jallen@pcpa.org) is the vendor contact for the section.  Student designers, technicians, and stage managers for theatre and dance productions are encouraged to submit their work for the Richard Thompson Student Design and Production Exhibit and Competition.
For more information about the event, see the section website www.scusitt.org or contact Section Co-Chairs Donna Parsons (stagemama@aol.com) or Jim Taylor (jptaylor@pomona.edu). For information about the venue, contact Sherry Linnell (slinnell@pomona.edu) or Jim Taylor.
Ohio Valley: Scholarships Awarded
Rich Mason, Courtney Gomez, and Casey Shore have been selected by the Ohio Valley Regional Section Board of Directors to receive a free conference pass to the USITT Annual Conference & Stage Expo in Long Beach, California. This pass is awarded directly to them by USITT National and is based on the design/technical work submitted to OVS as part of the Peggy Ezekiel Exhibit.  This award is given to the top three student exhibits selected by the board.
OVS will award a $500 scholarship to one deserving student for the student to use the conference as an educational opportunity to further career goals. The deadline for submission is December 18.  All rules and entry information for the scholarship can be found at www.usittohiovalley.org/wp/scholarships
Southeast: Hold Master Classes, Design Expo
The Southeast Regional Section's annual Master Classes and Design Expo were hosted by the Department of Theatre and Film Studies at the University of Georgia in Athens, October 6 to 8.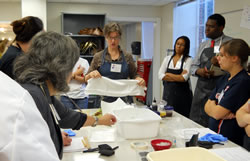 Margaret Peot conducted practical fabric painting sessions to a packed house, demonstrating a wide variety of techniques. Delbert Hall had participants soaring over the mainstage as he taught the finer arts of performer flying effects. Mac Johnson and Meyer Sound held sessions demonstrating various hardware and software options that are available for audio work. Taking advantage of resources available at UGA, there were several sessions on virtual reality and show control, which included a demonstration of a robot dancing to Michael Jackson's "Thriller."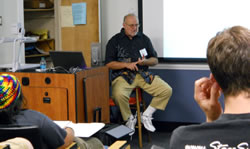 Jim Moody and Jeff Davis presented the keynote address, both of whom generously shared advice and wisdom based on their years of working as lighting designers for Broadway, opera, concerts, and television. The section also held its fall business meeting and welcomed Emily Gill (University of Montevallo) as new treasurer and Ivan Ingermann (UGA) as secretary. Bob Thurston (outgoing treasurer) and Judy Adamson (outgoing secretary) were thanked for their many years of service to the section.
David Grindle,USITT Executive Director, addressed the section meeting with entertaining tales of moving to Syracuse, snow drifts, and lost children as well as bringing everybody up to date about USITT National. The Master Classes were wrapped up on Saturday evening with a social gathering hosted by Sylvia Pannell and featuring some of the world's finest barbeque by Carl Lefko. T
Acknowledged sponsors Barbizon, Charlotte; BMI Supply; Sculptural Arts Coatings; Stage Rigging Services; and Stage Decoration & Supply.
The region's next meeting will take place at SETC in March.