Commissions
One Man's Trash...
This past spring, a panel discussion at the USITT Annual Conference & Stage Expo discussed ways of making theatre more "green."  Various ideas were presented ranging from the use of various types of stock scenery, to designing more energy efficient theatres, to simply using better light bulbs.  The problem still remained that theatre is just not a very green business, but that doesn't mean better solutions can't be sought.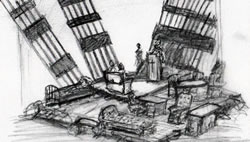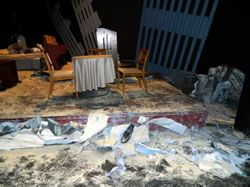 The last two productions at Auburn University Montgomery were The Great Easter Egg Hunt, by Ken Jones—a broad comedy about an Easter egg hunt in the marshes of Florida—and Unseen, by Jeffery Scott Elwell—an original script about a boy whose father is killed on 9/11 and the boy's difficulty dealing with this loss. 
On the surface these two plays had literally nothing in common, either in theme or in design, but opportunities for re-use resulted in a good deal of the Easter Egg set being salvaged for use in the Unseen environment.
The set for The Great Easter Egg Hunt included a large bolder, which had to be substantial enough for actors to stand on and large enough to hide a group of hunters from their prey.The set design for Unseen wanted to replicate the look of the fallen towers, including the rubble and ashes as a way of showing the family's inability to escape from that moment in time.
Working through the problem of creating rubble, it occurred to designers as the Easter Egg set was struck that a great deal of trash, composed mostly of bent chicken wire and strips of gray material would be created for Unseen. This boulder very easily could be used to represent the bent steel and rubble of the fallen towers. This "waste" was saved and used as rubble. By adding a couple of additional touches, such as some shoes and actual broken cinder blocks, the look and feel of the devastation of 9/11 was successfully recreated.
While there was a good amount of waste created in this process, it is far less than if resources were not reused their greatest advantage. Unseen has been recommended for presentation at the Southeast Regional Kennedy Center American College Theatre Festival, so bins to store the various materials need to be created until the materials finally finish their usefulness -- or become a part of the next set.