Conference & Stage Expo
Programming for the Costume Commission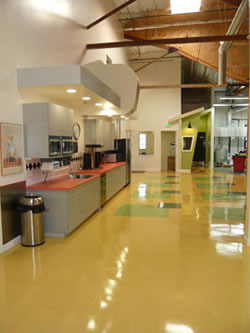 California here we come! And what would be better than to head into Los Angeles to see just a few of the things it has to offer. The Costume Commission's Professional Development Workshop (PDW) begins Tuesday morning before the 2012 Long Beach Conference & Stage Expo with a tour of the Ben Nye Make-up Company. It continues in the afternoon with shopping at some of the most popular make-up, wig, and hair places LA has to offer.
Excited to learn more about make-up? Todd Debreceni is leading a session about false teeth and contact lenses. He'll not only show some wonderful examples, but discuss the safety involved in using these kinds of effects. Inspired to teach a course in make-up? Friday holds a great on putting together a syllabus for a make-up course.
There are so many sessions, it's hard to cover them all. There is a session on patterning ruffles, pleats, and sleeves. Those interested in getting masks done fast can attend a session on Saturday. Peggy Rosefeldt will lead an informative discussion about Tony Award-winning costume designer Lucinda Ballard. For nearly 50 years, she designed costumes for a number of Broadway productions.
Continuing with the popular hands-on sessions, participants will have a chance to design using inspiring words from playwrights, then continue by draping those designs in the Technology session. Before these fun sessions, students from across the nation will have a chance to present some of their work for all to see. The juried poster session is always a great way to see new and exciting ways people are creating costumes.
Costumes are traveling the world this year. With an intriguing look at dress from around the world, ideas of how to take research and reproduce or interpret these items for stage will be presented. Making costumes light up or even make special sounds will be covered in another session. Finally, find out what the Costume Commission is all about, and what things are going on within the Commission.
Dana Nye will receive the Distinguished Achievement Award and participate in an all-Conference session on Friday morning where all USITT DAA winners will hold a panel discussion moderated by Kevin Rigdon.