News From
Around the Institute
Board Visits Syracuse
It was great to have the Board of Directors, along with members of the Finance and Publications committees, in Syracuse in November.  The fall colors were a bit past their peak display, but we managed to have a Wednesday that was warmer than Las Vegas and a Friday with snow flurries falling past the window of our 20th floor meeting room.
One thing you can always count on around the USITT National Office is variety – in viewpoints and in weather conditions.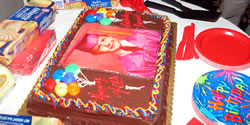 The board was in town mostly, we believe, to help Executive Director David Grindle celebrate his 40th birthday which was the day after the meetings ended.  He was feted with a cake including a photo from his kindergarten graduation, black balloons, singing, and a special guest appearance by his wife, Julie, at a dinner which featured President Joe Aldridge's favorite Dinosaur Barbecue.
Aldridge Speaks at SU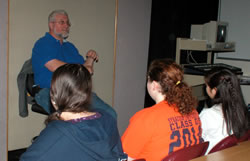 Mr. Aldridge spent some of his visit as a special guest at Syracuse University's School of Visual and Performing Arts where he spoke to several classes about his experiences.  The wide-ranging discussion covered his experiences as a stagehand in Las Vegas, as a professor, and as a member of USITT.  Students and faculty (and a USITT staff member) were startled to learn that Joe was 30 feet in the air completing part of an installation when the famous fire broke out in the MGM in Las Vegas. 
No one will be surprised to learn that his first reaction was "Really? Are you serious?" before climbing down and promptly leaving the building.
Lustig to Receive First Honorary Fellow
At the annual meeting of the American Society of Theatre Consultants (ASTC), held this year in St. Louis, Missouri, Edgar L. Lustig was named the first Fellow of ASTC (FASTC). 
Jim Read, ASTC President stated; "The Fellows membership category has been established to honor members who have rendered conspicuous service or made notable contributions to the advancement or diffusion of the knowledge of theatre consulting or the fostering of its practical applications, and who have rendered significant service to the ASTC in multiple fashions. In recognition of decades of service to ASTC and his contribution to the world of theatre, we are proud to announce the elevation of Ned Lustig to the most honored status of Fellow of the American Society of Theatre Consultants."
Mr. Lustig has been a theatre consultant for 45 years. As a founding member, he has served as secretary-treasurer since the organization's formation 1983. He has made prodigious contributions in technical theatre as technician, manager, technical director, manufacturer, designer, and consultant. Mr. Lustig is known for his inventions and innovations in theatre and lighting equipment technology, most notably the dimmer affixed to the lighting instrument.  His consulting work includes The Ferrara Theatre in America's Convention Complex, High Point University's Hayworth Fine Arts Center, University of Chicago's Mandel Hall, Wright State University's Recital Hall, and Drake University's Fine Arts Center.  In addition, he has contributed his talents as set and lighting designer for theme park work at Busch Gardens in Tampa, Florida and Williamsburg, Virginia.