Commissions
Seek Technical Production Posters for Long Beach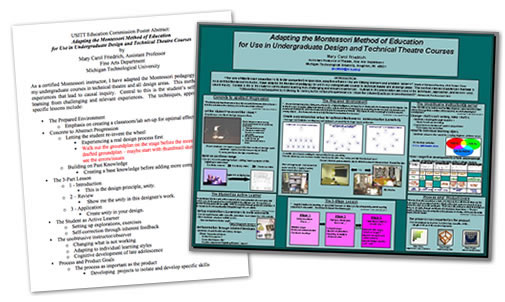 This year, the Technical Production Commission will sponsor a new poster session focusing on practical projects for teaching technical production. This is an opportunity for educators and students to share the projects they use in their classes and shops to teach technical production. Poster projects could cover teaching any number of areas and can include introductory or intermediate material including, but not limited to, scenic construction, construction drafting, scene shop management, technical direction, and scenic automation. Poster presentations are widely accepted as meeting the requirements for scholarly publication.
Poster presenters may also have the opportunity to publish their ideas at a later date. All submissions will be juried by the Teaching Technical Production Poster Selection Committee. Ideas for posters should be presented in the form of an abstract, a concise summary of the information to be presented in the poster, not more than 250 words typed.
The deadline for submitting abstracts is December 15. Applicants will be notified in early January. The actual presentation and handout information will be due February 28.
To submit a poster abstract for consideration, title the abstract and include your name and contact information. Then send it electronically to info@office.usitt.org. Questions? Contact Mary Black at maryblack223@gmail.com or 319-610-4133.