News From:
Contributing Members
ETC: Wisconsin Theatre Puts ETC Congo Kid to the Test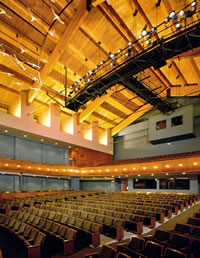 The Sharon Lynne Wilson Center for the Arts in Brookfield, Wisconsin – a venue supporting arts programs in area schools and local artists – has employed ETC lighting solutions in its theatre spaces for the last decade. The complex caters to a broad range of events, from high school musicals and student orchestra recitals, to dance productions and cabaret acts. To provide the best possible lighting for each performance or special event, the technical staff uses a range of ETC lighting control consoles. The Wilson Center also became the first venue to use ETC's newest lighting control console, Congo Kid.
ETC is always looking for beta test sites around the world. When opportunities for tests of new products become available, ETC announces them on the product forums at www.etcconnect.com/Community.
J.R. Clancy, Inc.: Adds Staff Members, Offers Financing
J. R. Clancy, Inc. has added two people to its design and mechanical engineering staff and now offers financing for rigging systems.

Hee Yeon Jeong joins the Clancy staff as a mechanical engineer. In her new position, she will design submittal and shop drawings for projects involving dealers. A native of Busan, South Korea, Ms. Jeong most recently was a mechanical engineer at JASStech Corp., the largest theatre rigging firm in South Korea. She holds a bachelor of science degree in mechanical engineering from Dong-A University in Busan.

Brandon Welsh is a new design engineer at Clancy, where he will be involved in system design for clients' rigging projects. A recent graduate of the University of Cincinnati with a bachelor of science degree in mechanical engineering technology, he worked for Beck Studios, in Milford, Ohio, while finishing his degree. He also completed co-op assignments in the power and automotive industries while studying at the university.
Buying a new theatre rigging system is now within reach for schools and smaller theatre owners, thanks to a simple financing plan offered by J. R. Clancy. Rigging equipment purchasers can spread payments over two to seven years, with competitive rates that make the arrangement affordable. To receive the simple, one-page application for financing, call Ray Carrock, chief financial officer, at 800-836-1885.
More information about J. R. Clancy and its full line of rigging products is available at www.jrclancy.com.