Conference & Stage Expo
Exhibitor Programming for 2012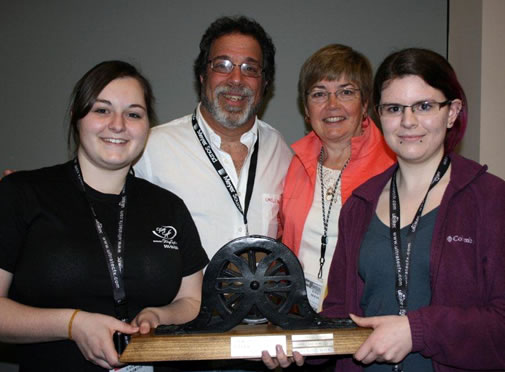 In addition to exhibiting at Stage Expo, several companies sponsor programs at the annual conference. Here are brief descriptions of some of the sessions which will be presented by Stage Expo exhibitors in Long Beach next March.
Properties at Cirque du Soleil
Sponsored by Cirque du Soleil
Come and join us as we delve into the world of props at Cirque du Soleil. Explore with us the challenges our teams face in maintenance repair and re-design of the thousands of props. Take a glimpse into how we utilize old and new technology to discover and rediscover ways to anthropomorphize our world. Invoke your creativity to provoke your design and evoke your wildest dreams.
Audio in a Disney Theme Park
Sponsored by Disney Parks Creative Entertainment
Representatives from Yamaha, Meyer Sound, and Disney Creative Entertainment discuss the challenges of sound and audio design and implementation in a theme park. Hear from the audio design team as they use one of Disney's current shows as a case study to provide insight to the development process.
Costuming Disney Animatronics
Sponsored by Disney Parks Creative Entertainment
Join Disney's creative costuming team as they discuss and demonstrate specialized costume and cosmetology techniques used for animatronic figures depicting characters from both live action and animated features.
Disney's Healthy Technician
Sponsored by Disney Parks Creative Entertainment
Focus on personal and professional skills while allowing technicians to be healthy, prevent injuries, and sustain longevity in a career as a technician.
A Mouse, A Duck, and Seven Dwarves - the Production Process
Sponsored by Disney Parks Creative Entertainment
Making magic for millions of guests and audience members each year takes a lot more than pixie dust and happy thoughts. Learn about the Disney production process, and how they take an idea from concept to reality at the highest level of professionalism and execution.
No More Dancin' in the Dark: Lighting Costumes in the Disney Show
Sponsored by Disney Parks Creative Entertainment
Follow the process of design, development, fabrication and implementation of costumes in a night time parade or spectacular. Experience the process of illuminating and enhancing costumes through lighting.
Load Monitoring & Safety
Sponsored by Eilon Engineering
Explore the dangers of unpredictable load distribution and the importance of load monitoring.
Sound Lab Introduction
Sponsored by Meyer Sound Laboratories
Meyer Sound Laboratories staff will demonstrate the installation of a Constellation acoustic system in the Sound Lab. This session will also serve as the official opening of the USITT Sound Lab, a space that will allow hands-on demonstration and training on multiple systems and software during the annual conference.
An Introduction to Patterning Costume Design Details
Sponsored by Period Corsets
Learn to pattern different costume design elements including ruffles, pleats, and sleeves. This session will provide the beginner costumer some essential basic patterning skills and it will give the costume educator an idea of how to illustrate these skills.
Stump the Riggers
Sponsored by Sapsis Rigging & Entertainment Services
A panel of industry experts invites you to take pot shots at them. Bring your best (and worst) questions and try to stump these guys. The best question takes home the coveted Jack Suesse Memorial Trophy and bragging rights for a year.
Alternative Training Options
Sponsored by Stagecraft Institute of Las Vegas
This panel discussion will explore options for advanced technology training through PDWs, workshops, manufacturer's certifications, and alternative programs. A panel of trainers and educators from multiple resources will discuss avenues available to improve and update skills, networking to find support for advanced training, and funding for advanced training.
Please plan to join us at the Annual Conference & Stage Expo in Long Beach March 29 - 31, 2012 for these and many other sessions.
Helen Willard
Stage Expo Sales Manager