News From:
Sustaining Members
Reed Rigging: Supports Rammstein Tour
Pushing boundaries just like the German metal band Rammstein, Reed Rigging partnered with Ampco Flashlight Rental to support the Rammstein North American Tour with an XLNT CyberHoist Motion Control System.
The system included 49 XLNT CyberHoists uniquely timed to shift various scenic elements throughout the production. With over 16 items moving around at various speeds and times during the show, the set provided its own theatrical performance for fired up fans. Flame cannons housed inside truss flew in close to the band and audience for an over-the-top dramatic effect.
For more information please visit www.reedrigging.com.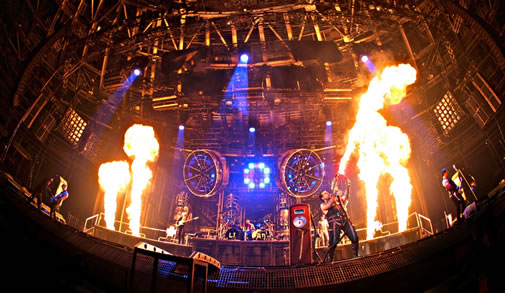 Serapid, Inc./SECOA/Daktronics: Exhibitors Focus on Joint Projects
Serapid Inc., SECOA, and Daktronics co-exhibited at the 46th Annual Society for College and University Planning (SCUP) International Conference and Idea Marketplace July 23 to 27 in National Harbor, Maryland.
The event is higher education's leading conference highlighting best practices in integrated planning. The three organizations focused on projects they coordinated together – most recently the Wyly Theatre, part of the AT&T Performing Arts Center in Dallas, Texas.
SECOA integrates theatre equipment and systems and offers expertise in the planning and construction of theatre spaces. Daktronics Automated Rigging Solutions designs and manufactures rigging systems for theatrical, architectural, and arena applications. Serapid is a world leader in heavy linear motion through the use of the rigid chain technology and a full service stage and orchestra platform lift supplier. For more information, visit www.serapid.us or call 800-663-4514, www.secoa.com or call 800-328-5519 or www.daktronics.com or call 800-325-8766.

TMB: Strobes Spotlight Dance Moves
Series Two of BBC One's hit show So You Think You Can Dance concluded another successful season this month with help from lighting supplied by TMB. Pushed to the limit for eight weeks, the four finalists and the set lighting proved impressive, dependable, and resilient to the very end.
Four ultra-bright Solaris Quasar 15K strobes provided visual punch over the entire season. Solaris Quasar strobes were also featured on the UK hit show Strictly Come Dancing and the American 44th Annual Country Music Awards. TMB is worldwide exclusive distributor for Solaris: www.tmb.com/products/solaris. Learn more about many other exciting products from TMB at www.tmb.com.
Stagecraft Institute of Las Vegas: SILV Launches Summer Training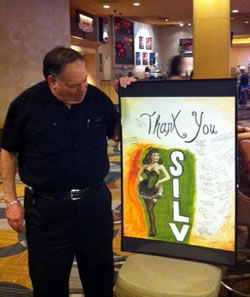 The Stagecraft Institute of Las Vegas began its fifth season of intensive training earlier this summer. As a part of the training experience, SILV students attend a wide variety of Las Vegas productions and it is a SILV tradition that the first show the students attend is Jubilee.
Jubilee opened in 1981 and is the longest running production show in Las Vegas. The production operates the same today as it did 30 years ago and is a prime example of how "old school" technologies can provide both effective and spectacular results. In addition to seeing the show, the students received an extensive backstage tour courtesy of Louis Bradfield, USITT Fellow.
Sapsis Rigging, Inc.: Provides Rigging for Castleton Festival
Sapsis Rigging, Inc. (SRI) designed and installed a self-climbing truss rig for the third annual Castleton Festival held in Castleton, Virginia June 25 to July 24.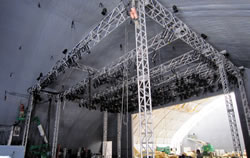 SRI installed a truss rig inside the festival tent to facilitate proper staging of the numerous concerts and opera performances to be held there. The rig, measuring 27 feet high, 53 feet wide and 46 feet deep, included seven tower legs placed strategically to accommodate lighting and scenery needs as well as weight load considerations. The tent's unique frame offered additional weight load capacity at mid-span which SRI used to help support the six 50 foot long cross trusses.
The Castleton Festival evolved from the Castleton Residency program for young artists run by The Châteauville Foundation, established in 1997 by Lorin and Dietlinde Maazel.
For more information on Sapsis Rigging, visit www.sapsis-rigging.com.
Serapid, Inc.: Serapid Welcomes Three New Employees
Serapid, Inc., hired three new employees in engineering and manufacturing positions: Devin Badaczewski, Emanuel Chirila, and Anthony Lelej.
Mr. Badaczewski is a designer in the engineering department. He will complete his mechanical engineering degree at Kettering University in Flint, Michigan in December. Prior to joining Serapid, he held several internships including one at MHart Corporation.
Mr. Chirila is project engineer. He has over 17 years of mechanical engineering experience designing small mechanics and assembly automation machines.
Mr. Lelej is a builder in the manufacturing department and had been a job setter for American Axle in Detroit.
For more information, visit SERAPID at www.serapid.us or www.serapid.com, e-mail info-us@serapid.com, or call 800-663-4514 (toll-free) or 586-274-0774 (direct).