News & Notices
Award First Round of Rigging Safety Initiative Grants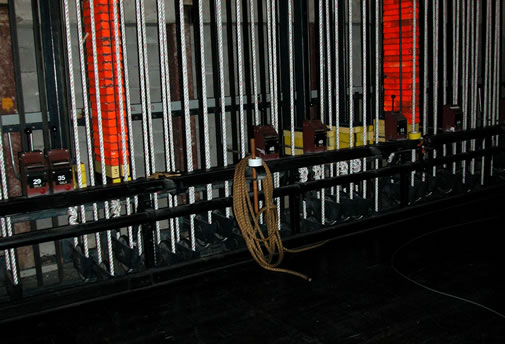 Fraying ropes, brakes that do not fully hold or rope locks that fail, line sets not properly weighted, kinked cable, and a line set that makes "an incredible grinding noise" when flown in or out. All these things and more cause concern at theatres in schools throughout the United States. This has sparked USITT's Rigging Safety Initiative.
Less than four months after the program was first announced at the 51st Annual Conference & Stage Expo, 12 institutions have received grants for inspection of stage rigging and education of users of that rigging. The next deadline for the Rigging Safety Initiative is October 15, and applications are available online here.
"We have had tremendous interest in this program, and the initial round of applications show just how vital this program will be," noted Joe Aldridge, USITT's President and a strong proponent of the initiative.
"Founding Sponsor J.R. Clancy has provided a level of support which includes not only a rigging inspection, but training for up to eight faculty, staff, and students on the safe operation and maintenance of systems in their specific schools," Mr. Aldridge said.
The inspections and educational module will be provided by ETCP-Certified Theatrical Riggers who work for USITT member companies. USITT has members willing to work with schools in all 48 contiguous states. "We're working on Hawaii and Alaska," said David Grindle, USITT Executive Director, "but we want inspectors from within those states to keep costs down."
Schools chosen to participate in the first round are: Ripon High School, Ripon, Wisconsin; Westfield High School, Westfield, New Jersey; Southern Door High School, Brussels, Wisconsin; Thomas Jefferson High School, Council Bluffs, Iowa; Pequot Lakes High School, Pequot Lakes, Minnesota; Oaks Christian School, West Lake Village, California; Shakopee High School, Shakopee, Minnesota; Buffalo High School, Buffalo, Minnesota; Atlantic High School, Atlantic, Iowa; Pace Academy, Atlanta, Georgia; Sky View High School, Smithfield, Utah; and R. J. Reynolds High School, Winston-Salem, North Carolina.
Several applications included photos of conditions within their schools which helped the selection team make decisions.
The schools are responsible for the cost of travel and housing of the inspector, if necessary, and any special equipment required (such as a lift or other item to access the system).
USITT plans to review applications and provide grants twice a year.