News From:
Around the Institute
Jill Maurer Moves to Clearwing Productions
Jill Maurer, a member of USITT's Board of Directors and the Desert State Regional Section, is moving across town for a new opportunity. She is leaving her position at Westlake Reed Leskosky to oversee the Design/Build Department at Clearwing Productions. Clearwing Productions was founded 25 years ago in Wisconsin and branched out to Phoenix in 2005. Ms. Maurer will sell and manage installation projects in Arizona and Southern California. She installed systems for eight years before consulting for the last four. She can now be contacted at jmaurer@clearwing.com or 602-850-6333.
Renee Butcher Tours National Office
The USITT National Office staff in Syracuse was pleased to give a tour of our home to Renee Butcher who stopped in for a visit. We are always glad show off our work spaces and wall art. It was especially nice to see Renee, who is currently working in Alabama but is spending the summer in upstate New York.
For those who might like a tour, or just a chance to visit, our offer of breakfast goodies is still good. Just let us know when you might be stopping by.
Fran Sutherland Now With AV Dimensions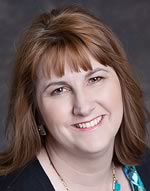 Fran Sutherland, Chair of the Desert State Regional Section, has been named account manager at AV Dimensions, Inc.'s Chandler, Arizona corporate offices. She is supporting the AV Dimensions sales staff by overseeing customer relations, creating estimates and quotations, and seeking new business clients.
She has more than 20 years of audio visual experience in everything from theatre production, teaching, event production, sales, cross-rentals, and accounting within the industry. She began her career with an Indiana University individualized major audio technology and theatre degree. She has since worked as an audio engineer on national and international tours, and taught audio engineering at Columbia College. She has earned an array of experience through her additional industry work at Clearwing Productions, Sunbelt Scenic Studios, and AV Concepts.
The company also hired industry professional Glenn Ray as vice president of operations. Mr. Ray brings extensive industry experience through working with GES, Exhibitgroup/ Giltspur, Mice NA, MC2, Hoffman Productions, Nike, and Samsung to name a few.
June Means Travel for David Grindle
David Grindle, USITT's Executive Director, spent most of June out of the office. In addition to attending the 2011 Prague Quadrennial of Performance Design & Space, he did a walkthrough of the Rigging Safety Initiative, and then capped off the month by presenting a session on Technical Theatre for Managers and Administrators at the Association of American Community Theater's AACTFest 11.
Fundamentals of Theatrical Design Now in Print
Fundamentals of Theatrical Design, by USITT member Karen Brewster and Melissa Shafer, has now been published by Allworth Press. The book integrates analytic and technical tips with artistic ways to address a wide variety of issues. The book also includes excerpts from several USITT publications.
UNCSA HOSTS Third Annual Entertainment Innovation Conference
Officials at the University of North Carolina School of the Arts (UNCSA) have announced the school's third annual Entertainment Innovation Conference (EIC), a three-day event hosted by UNCSA's School of Design and Production September 8 to 10.
Cirque du Soleil and its corporate partners will lead workshops covering the use of the cutting-edge technologies in its productions. The conference is open to industry professionals, including students and faculty members of university theatre departments.
The UNCSA Entertainment Innovation Conference is one of several regional conferences highlighting the technological requirements that go into a Cirque du Soleil production.
Presenters at the conference include: Rochelle Wolfe of Cirque du Soleil's Resident Shows Division; Stacy Meyers, Cirque du Soleil general stage manager; Sharean Oxley, Cirque du Soleil assistant company manager of O; Chris Velvin, Cirque du Soleil health and safety manager; Tisha Tinsman, UNCSA alumna and Cirque du Soleil lead wig/makeup technician for Viva Elvis; Eric Ludacer, UNCSA alumnus and Cirque du Soleil head of projections for Love; Mac Johnson from Meyer Sound Labs; and Gemma Guy of Stage Technologies.
For more information about the UNCSA Entertainment Innovation Conference, including registration and hotel information, visit eic.uncsa.edu.
Announce NATEAC 2012 Schedule and Venue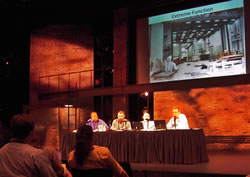 The next North American Theatre Engineering and Architecture Conference (NATEAC) will be held at the Hilton Hotel in mid-town New York City on July 22 and 23, 2012.
Bill Sapsis will reprise his role as conference director. In addition to the two conference days, social events are being planned for before and after the conference. For more information and to join the NATEAC mailing list, visit nateac.org.
The continuing goal of NATEAC is to promote communication between everyone involved in designing and building new theatres or renovating existing facilities.
George Thomas Howard
USITT notes with sadness the death of designer George Thomas Howard in Las Vegas. Among his survivors are his wife, Karen, and children Tamitha and Christopher.
A memorial service is being planned for August 21, with details to be announced. The family would appreciate hearing from friends of George for that service, and remembrances may be sent to his son at choward@schwabe.com.
Further information on his life and career will be included in the September issue.