Conference & Stage Expo
In 2012: Why Long Beach is like Prague - or Not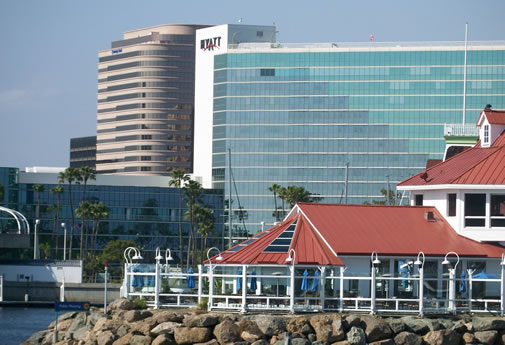 Like quite a few USITT members, I was in Prague in June for the Prague Quadrennial of Performance Design and Space. In looking for a new approach to promote the upcoming Long Beach Conference and Stage Expo (March 28 to 31), I thought about the many ways that Long Beach is like Prague—or not.
Transportation:
While both cities have airports with non-stop flights from JFK, it is probably more useful to note that both also have inexpensive light rail transportation for getting around the local area. Both cities are also excellent for walking, with plenty of scenic vistas to be seen within close proximity to the city center.
Climate:
Long Beach in late March is likely to be a lot like Prague—in June. That's a good thing to keep in mind if you're thinking about attending the conference. The weather in southern California should be very pleasant, while the forecast in Prague will be cold and wet.
Environment:
Long Beach has some architectural gems, but there's really no comparison. Everywhere you turn in Prague, there's another beautiful, 500-year-old building. Next March, come for the weather, not the history lesson.
Cuisine:
In Prague, we found everything from Italian to Asian to Latin American to Irish pub fare. You can find all of those in Long Beach within walking distance of the convention center. What you're not likely to find are traditional Czech cuisine (beef goulash or roast pork with potato dumplings and boiled red cabbage) and the sausage stands of Wenceslas Square. Instead, be on the lookout for restaurants that specialize in good barbecue and fresh seafood, neither of which seemed to be as readily available in Prague.
Beer:
Prague is famous for its beer. Excellent Czech brews include Pilsner Urquell, Kozel, Gambrinus, and the original Budweiser. Nevertheless, Prague has nothing on Long Beach when it comes to choices of beer. Of course, many USITT members are already familiar with The Yard House and its 250 brews on tap. There is also the Rock Bottom Brewery, the Auld Dubliner Pub, and the many other local restaurants that serve up plenty of what the Czechs call pivo.
The USITT/USA Exhibit:
If you didn't make it to the Prague Quadrennial, you'll be glad to know that plans are underway to put the USA's PQ exhibit on display in Long Beach. The exhibit is distinctive and a bit of a departure from past USA exhibits. Plan to spend some time viewing it on the Stage Expo floor, along with the several other exhibits that are in the works, including the bi-annual Design Expo.
Lost in Translation:
While in Prague, we visited a local shopping mall and found the food court on the fifth floor. We saw a couple of fast-food restaurants that claimed to offer California-inspired cuisine, so we were thinking maybe avocados, arugula, and artichokes. One was called L.A. Finger Food. The other was called Santa Fe (yeah, I know), where each dish had a name, usually something related to California. The one that particularly caught my eye was called the "Long Beach." It consisted of deep fried cheese and French fries. (Yeah, I know!) Don't spend a lot of time looking for that when you come to the conference in March.
[Note to the Editor: And then there was the Thai fast food restaurant that offered vonave a krekhe kure s ryzi. There was no Thai translation, only an English one that read: "Crisp Fried Chicken." I guess the less said about that the better.]