Conference & Stage Expo
Planning Includes Noshing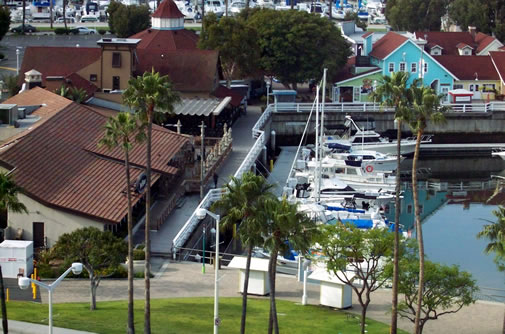 Each year in May, the Vice-President for Programming convenes a meeting of members of the Conference Committee with the Commissioners Steering Committee, plus regional programming and promotional volunteers to schedule program sessions for the following year's conference. During the day-long meeting, every session which has been proposed for the Annual Conference is reviewed and scheduled for a particular day and time in a specific room. This year's meeting was held at the Hyatt Regency Long Beach, which will be USITT's headquarters hotel during the 2012 Conference.
The committee's visit kicked off on Friday afternoon with a look at the exhibit halls, meeting space, and ballrooms in the Long Beach Convention & Entertainment Center. A tour of the Hyatt meeting space and an organizational meeting followed. Extra time was spent in the LBCC Grand Ballroom, which will be the site of the inaugural USITT Sound Lab in 2012.
After the meeting, several members made a pilgrimage to the Yard House, just across Shoreline Drive from the hotel, for dinner and a sampling of some of the 180-plus beers on tap. Others drove a few miles south to visit another old friend, the Belmont Brewing Company, located right on the beach by the Belmont Pier.
Saturday's meeting convened early and concluded many hours later, after a careful review of all the proposed sessions and Professional Development Workshops. Members also reviewed proposals for a number of special exhibits which will be on display at Stage Expo 2012. Next year's special exhibits will also include the USITT/USA PQ 2011 National Exhibit, From the Edge, the student exhibit, Emerge, and the architecture design exhibit.
With so many restaurants close to the LBCC, choosing one for lunch was difficult, but the California Pizza Kitchen's outside patio proved a popular choice. Once the meeting concluded, dinner selections included the Auld Dubliner Pub, across the street from the LBCC, and Alegria Cocina Latina, located further up Pine Street.
Committee members are looking forward to checking out more restaurants during the January Conference Committee meeting. Plan now to travel to Long Beach March 29 to 31 for the 52nd Annual USITT Conference & Stage Expo and sample what Long Beach has to offer. For information about exhibiting at Stage Expo 2012, contact hpwillard@aol.com.