News & Notices
CITT Plans Victoria Conference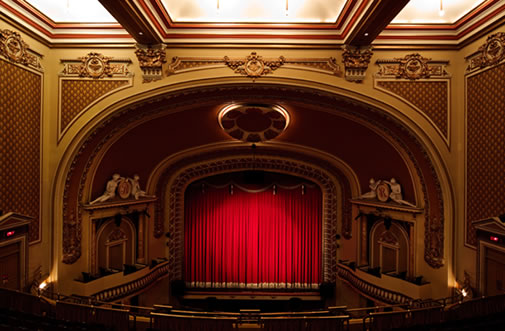 Registration is now open for CITT's Rendez-vous 2011, the organization's 21th Annual Conference & Trade Show in Victoria, British Columbia, Canada, from August 11 to 13.
CITT, the Canadian Institute for Theatre Technology, holds its conference over three days - from Thursday to Saturday - and offers full days of seminars and social events, with more intense certification courses and workshops held two days prior to the main event. An industry trade show features CITT corporate members presenting new products and technologies.
Rendez-vous 2011 will take place at the Royal Theatre and the Victoria Convention Centre (VCC), from August 11 to 13, with pre-conference workshops on Tuesday and Wednesday August 9 and 10. A post-conference Up-Island Theatre Tour is scheduled on Sunday August 14.
Some of the highlights of the conference include:
Conference Programming - from August 9 to 13
Some of the pre-conference workshops and sessions include Pyrotechnic Certification, Stage Rigging Old and New, Advanced VectorWorks Tutorial: VectorWorks for the Scene Shop, Conflict Resolution: a question of negotiating collaboration, Roadhouse Roundtables, Education Forum, Colour Theory: the color of light and how we measure it, Natural Dyes and Dye Techniques, Scenic Painting, Creating a Sustainability Rating System for Theatre, Props: recent project show & tell, Specs for Drapery and Drops, and much more... Details about the programming can be found here and on-line delegate registration is available here. Early-bird membership rate is available up to June 30th, 2011.
CITT Trade Show - Friday August 12, 2011
CITT's Trade Show will take place downtown at the Victoria Conference Centre (VCC) in the Carson Hall A and B. The Trade Show floor will be open free to the public from 1:30 to 5:30 p.m. Click here to view confirmed exhibitors. To register as an exhibitor, click here. The New Product Breakfast on Friday morning will showcase some of the latest technology at the trade show.
CITT AGM & Awards Banquet - Saturday August 13, 2011
The annual Rendez-vous is also the occasion for CITT's Annual General Meeting of the members and for the Awards Banquet where CITT honors those individuals and companies who have excelled in their field of live performance in Canada. This year, CITT is welcoming Rae Ackerman, Director of Vancouver Civic Theatres, as guest speaker.
Social events and networking opportunities every day!
The social events make up a big part of the conference; whether it's the Wednesday Newcomer Meet & Greet, the Thursday Junk Challenge, Friday Swag Bingo, or Saturday Award Banquet, there's always time to socialize and network with fellow colleagues.
Accommodations
The Fairmont Empress adjacent to the VCC, is our hosting conference hotel. Information and reservation are available here. The cut-off date to reserve at the special conference rate is Saturday July 9, 2011.