News & Notices
Pattern Archive Grows with Major Donations
Donations continue to enrich the Commercial Pattern Archive. This year, USITT member Linda Sarver began transferring her sizeable pattern collection as well as pattern catalogs, fashion magazines, and other related materials to the Archive. Commission members have been scrambling ever since to get the catalogs and designs digitized and finished that task a couple of weeks ago. The patterns are now in the Pattern Database, CoPA. The count in the database at this point is about 50,000 pattern records dating from the 1860s to 2009.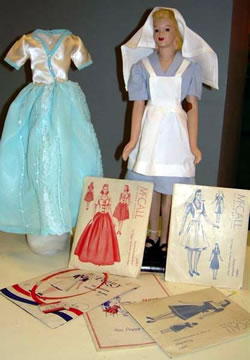 Another special donation came from a private collector, Elizabeth Brown. Her donation included three McCalls small scale display figures, referred to as "Minikins." The donation included many 1960s outfits for the figures. A master seamstress who is a regular volunteer in the Archive has also made several garments for the figures by scaling down patterns to fit. The outfits included dresses from the 1930s, nurse's uniforms, and a Hoover Apron. Example of the Minikins and some of the outfits can be seen under exhibits at www.uri.edu/library/special_collections. A new exhibit, "What Were They Thinking!? Experimental Designs Found in Commercial Clothing Patterns from the Commercial Pattern Archives" opened in June.
Anyone with patterns or related items for donation should contact Joy Emery, curator, Commercial Pattern Archive, URI Library Special Collections, 15 Lippitt Rd., Kingston, RI 02881 or jemery@uri.edu.
For more information on the Commercial Pattern Archive database, CoPA, see www.uri.edu/library/special_collections/COPA. Subscription information is listed under Order Now. Watch the website for the introduction of a sample of the database.