Conference & Stage Expo
The Long Beach TMZ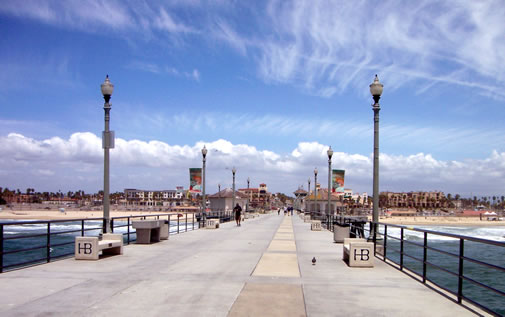 Not long ago, I asked my theatre students what "TMZ" stands for. As I suspected, they had no idea other than that it was the name of a Hollywood gossip web site and television show. I explained to them that "TMZ" refers to the "thirty-mile zone," also known as the "studio zone." In the entertainment industry, the TMZ is the area within a 30-mile radius of the intersection of West Beverly Boulevard and North La Cienega Boulevard in Los Angeles. Industry labor unions use this zone to determine rates and work rules for their members including additional compensation for travel time between the studio and an outside-the-zone location.
With the Hollywood TMZ in mind, I consulted my map to see what might be of interest to USITT members within the Long Beach 30-mile zone—the LBTMZ. A book could be written on this subject, but I've limited myself to four categories.
Airports
When flying in for the 2012 Annual Conference, there are three choices within the TMZ - the Long Beach Municipal Airport (LGB), Los Angeles International Airport (LAX), and Orange County's John Wayne Airport (SNA). More about getting to and from the airports will be included in a future article.
Scenic Drives
Access to a car and the desire for beautiful scenery in the LBTMZ could lead to a trip either north or south along the coast. Driving north takes the driver along the beautiful Palos Verdes Peninsula, then Redondo Beach, Hermosa Beach, and Manhattan Beach to LAX. Heading south leads through Seal Beach, Huntington Beach, and Newport Beach (near John Wayne Airport) to the artists' colony of Laguna Beach. The weather in late March should be splendid and so should the drive.
Museums
Besides the obvious ones, there are some favorite, smaller museums that are not usually heard of. These include the Museum of Neon in downtown L.A., the Museum of Jurassic Technology on Venice Blvd., and the Pasadena Museum of California Art. There's also the George C. Page Museum in Hancock Park, next to LACMA. It's a great museum for young and old that includes a large collection of Ice Age fossils (mammoths, mastodons, saber-toothed cats—cool stuff like that) that have been discovered in the La Brea Tar Pits adjacent to the museum.
Home Cooking
Great food of nearly any sort can be found in the LBTMZ, but since this is the July issue of Sightlines, with Independence Day cook-outs around the corner, I should mention a signature California dish. It's Santa Maria-style "barbecued" beef tri-tip roast (grilled, actually, over a red oak fire). It's typically served with pinquito beans, salsa, green salad, and grilled French bread. Tri-tip is served in many California steak houses and barbecue joints, but why wait until next March to sample some? Variations on the simple, traditional recipe are easily found on the internet, so give it a try this summer. It goes especially well with a good red wine or microbrew from the Central Coast - but lemonade will do just fine.