News From:
Contributing Members
Ecoglo, Inc.: Welcomes New Contributing Member
Ecoglo Inc. has joined USITT at the Contributing member level. Ecoglo, of 241 Main Street, Buffalo, New York, had representatives at the 2011 Stage Expo in Charlotte. Ecoglo specializes in photoluminescent step edge, guidance and handrail strips, and non-slip stair systems. Its products can help projects earn LEED points. For more information, visit www.us.ecoglo.com.
Oasis Stage Werks: Joins at Contributing Level
USITT welcomes Oasis Stage Werks of Salt Lake City, Utah as a new Contributing member to the organization. Oasis has a diverse business including supplying theatrical and entertainment services for more than 25 years. The company provides professional installation of stage rigging, fly systems, curtains, lighting, and dimming systems. For more information, visit www.oasis-stage.com.
StageSpot: Increases Membership Level
StageSpot, a member of USITT for several years, and an exhibitor at Stage Expo, has increased its level of support for the Institute to that of Contributing member. StageSpot is an online store for all theatrical needs from dimming systems to gaff tape, fly systems to paint. Its motto is "We are your friend in the entertainment business!" Visit www.stagespot.com for more information.
InterAmerica: Completes Stage Installation at 'Rockin' Church
It's not every church that requires a full proscenium stage, three audio and video editing suites, and truss that would make the world's top rock bands salivate. At Church by the Glades on the edge of the Florida Everglades, however, this level of production capability is all in a day's work.
InterAmerica Stage, Inc. (IAS) recently completed the installation of stage equipment at the church's new sanctuary. The popular, multicultural Baptist church offers seven services each weekend, ministering to about 5,000 people on a normal Sunday. The church expanded its sanctuary/theatre to accommodate its growing audience. The new 70,000-square-foot space seats 2,000 people, and includes a special area for the many preschool children who attend services there.
The extensive acoustical design was provided by Acoustic Dimensions: lighting, sound, and staging equipment by Stage Equipment and Lighting; and a new automated rigging system by J. R. Clancy, Inc.
Stage Technologies Las Vegas: Slate Automation Classes in Las Vegas
Stage Technologies Las Vegas will hold An Introduction to Automation and the eChameleon Suite training course August 1 through 3.
This course is aimed at programmers and operators as well as professionals from other disciplines interested in expanding their skills to include automation. Stage Technologies control interfaces will allow participants hands-on experience with eChameleon software and some current techniques and principles used to plot and run some of the biggest shows in the world. The course will cover the fundamentals of automation in entertainment, how, where and why it is used, basic automation theory, common terminology, best practice, and all the steps required to build and plot a show within eChameleon.
The course will be held in the Cirque du Soleil Training Center in Las Vegas, Nevada and will be limited to the first 10 applicants. Pricing includes coffee, refreshments, and a light lunch. To reserve a place, go to stagetech.com/usa-training-registration and fill in a simple online application form or e-mail usatraining@stagetech.com for more information.
ETC: Illuminate Royal Wedding Dresses
An exhibition of historic bridal dresses just got the royal treatment – lit by ETC's Selador Lustr LED luminaires. The priceless dresses date to 1816 and were recently on display in Kensington Palace, London, prior to the wedding of Prince William and Kate Middleton.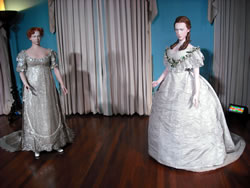 Historic Royal Palaces (HRP) chose London-based production company Entec Sound & Light to supply the lighting design and equipment for the limited-time showing, opened briefly to leading news media for global coverage. Each dress required the surrounding illumination of at least three light sources, and everything had to feed off the limited power supply in the drawing room of the late Princess Margaret's apartments. Each wedding dress also required its own tints of color, warmth, and coolness to accentuate details like embroidery, beading, or cloth texture. TV and still cameras had to be able to get optimum shots. The BBC was, of course, among the invited royal press guests; view its coverage.
For more on Selador LED and other ETC lighting solutions: www.etcconnect.com.
Production Resource Group: Digital Spacelight Available
PRG's OHM Light is in full production and is now available for purchase. The highly efficient LED-based OHM Light, developed by PRG in conjunction with Gekko Technology, is designed specifically to replace the traditional spacelights used on many motion picture and television sets. As a viable color corrected source, the OHM Light has a similar lumen output to a tungsten spacelight.
For more information, click here.
Daktronics: Renovation Project Schedule 'Unprecedented'
Daktronics automated rigging is on track to deliver its largest order to date with an unprecedented turn around time. The popular, state-of-the-art, Daktronics Pro Series console and Vortek hoists are replacing counterweight rigging systems in five high schools.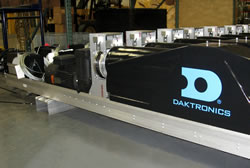 Daktronics has an aggressive installation schedule requiring 75 hoists installed in 60 days at five different locations with less than eight weeks to design, manufacture and deliver five, unique, turn-key, automated rigging systems. Four schools required grid-mounted hoists, while the other school's hoists are the typical underhung mounts.
For more information, visit the company's website.
Rose Brand: Blog Discusses Creating a Custom Huppa
Rose Brand's newest blog article was guest written by a customer, MMD Events. The article explains how to create a custom huppa (wedding canopy) using Rose Brand products. Visit blog.rosebrand.com to see the entire article.
Rose Brand is North America's largest provider of theatrical fabrics, custom stage drapery, custom sewn creations and production supplies for the live entertainment, film, TV, display, and event industries.
J.R. Clancy: Major Projects Highlighted at SHOWTECH 2011
Using video to bring some of its most recent major projects to life for show attendees, J. R. Clancy, Inc. presented its most popular products at SHOWTECH 2011 June 7 to 9 in Berlin, Germany.
Attendees had the opportunity to see video of one of Clancy's most extensive and distinguished projects: the award-winning chandelier at the Winspear Opera House in Dallas, Texas. Also featured was work at Princess Nora bint Abdulrahman University in Riyadh, Saudi Arabia. and current work at the new Abu Dhabi campus of Zayed University in the United Arab Emirates.
For more information, contact International Sales Director Charles Shatzkin (charlesshatzkin@jrclancy.com).